:: home

:: books

:: gallery

:: data

:: blog

:: kids

:: shop

:: bio

:: help

:: contact

:: ChrisKridler.com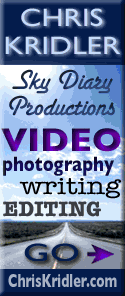 Words/images COPYRIGHT © 2018 by Chris Kridler. All rights reserved. Do not use Sky Diary photos on other Web sites. Personal use as computer wallpaper is permitted, but do not distribute photos. Write for information about purchasing video, photographs or articles. | Frequently asked questions

dispatches: March 2010
back | archive | current Share

22 MARCH 2010


Ah, coconut palms, shot in Islamorada in the Florida Keys.



Ready to chase! Almost. There's nothing like a storm chaser party to get one psyched up for the annual safari of atmospheric antics. We drove down to the Florida Keys on Friday. I had an interview set up with a British TV crew that was talking with a bunch of chasers for a clip show that will air soon on the Travel Channel. It's always interesting to be on the other side of an interview (look for another with me in Popular Photography in May). Saturday was Jim Leonard's annual storm chaser picnic at his place in Islamorada, which is ideally located on the ocean. Ideal until a hurricane blows through, that is, though since he's a hurricane chaser, I don't think he minds. It was great to see everyone and share tales and plans. We always say "see you under the meso" - I really hope I have a meso to be under this spring, after last year's bad timing. Check out photos from the Keys and the party.

14 MARCH 2010
Coming out of hibernation: It's beautiful and breezy and still a bit cool here in Central Florida, but I feel confident that we're swinging into spring. About time. Still, for those nostalgic for winter, I posted some New York Snowmageddon photos - actually, just a pretty, snowy stroll around Central Park.