:: home

:: books

:: gallery

:: data

:: blog

:: kids

:: shop

:: bio

:: help

:: contact

:: ChrisKridler.com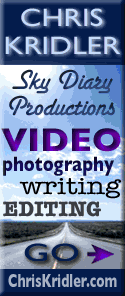 Words/images COPYRIGHT © 2021 by Chris Kridler. All rights reserved. Do not use Sky Diary photos on other Web sites. Personal use as computer wallpaper is permitted, but do not distribute photos. Write for information about purchasing video, photographs or articles. | Frequently asked questions

frequent questions and searches



People frequently search for the same terms on Sky Diary or write with similar questions. This file attempts to answer those questions and help you find things more quickly on the Sky Diary site.

Updated August 2015


Who is the author of SkyDiary.com and when was it created?
That would be me, Chris Kridler. I created the site in 1997, originally on AOL, then moved it to its own domain. Some pages, especially gallery and data pages, are updated frequently, but not all. Sky Diary now has a sister site, ChrisKridler.com, on which I post blog entries, photos and more, and there are frequent links between the sites.
Can I use the pictures on your Web site?
You may use pictures only for your personal use as computer wallpaper (the picture on your personal computer's desktop). Please do not distribute pictures or put them on other Web sites. They are protected under copyright law.
If you represent a publication and are interested in buying picture rights, please contact me.
If you want to use an image for Skywarn or other storm safety training, there's a good chance I'll say yes if you ask. But please ask. I might say no if the presentation involves posting the pictures online. Please include your full name and the name of your organization in your request, along with specifics about exactly which photo you are interested in using and how you wish to use it.
Students doing reports for school may use the graphics on the Kidstorm pages as long as they credit skydiary.com. Again, do not use them on other Web sites, even for school projects.
There are many sources of free pictures on the Internet. Among them: NOAA Photo Library, National Severe Storms Laboratory photo album, NOAA/National Centers for Environmental Information satellite imagery.
Are you sending me junk mail or a virus? Will you send me junk mail if I write to you or visit your site?
Sky Diary does not send electronic junk mail, commonly known as "spam." For more information, see the privacy page.

If you receive a virus or junk mail that appears to come from my address, it likely didn't come from me. Many viruses and spammers "spoof" addresses that are found in people's hard drives or that they find online. For instance, if you visited Sky Diary and my e-mail address is stored in your Web cache, or if someone else who has your address did the same thing, it may appear that I am sending you e-mail with a virus attached. Be wise and kill any strange mail that comes to you with an attachment.
I need to learn more about tornadoes / hurricanes / lightning for a school report or my own knowledge.
Please go to the Kidstorm pages. There is a page for each of those topics linked from the main Kidstorm page.
Where do I find safety tips for tornadoes, hurricanes and lightning?
Each Kidstorm page on these phenomena also contains safety tips.
I want to see pictures of a particular phenomenon (e.g. lightning, tornadoes, rainbows, etc.).
At this time, Sky Diary's weather pictures are not organized according to the type of phenomenon. You can browse the various gallery pages or look at the themed weather galleries on my photography pages, featuring tornadoes, storms and severe weather and lightning. For more galleries, please see ChrisKridler.com.
How do I become a storm chaser? What do storm chasers get paid? Is "Twister" realistic? Etc. ...
Read all about storm chasing at the Kidstorm storm chasing page.
Where is your storm chasers page?
Because I hadn't updated it in some time, I have eliminated links to the old page. The Kidstorm storm chasing page has information on chasers. If you go to my blog and look on the lower right, you'll see a blogroll list with links to a handful of chasers I've spent time with on the road.
Will you take me storm chasing?
Probably not. It helps to know the person with whom you are stuck in a small car for a couple of weeks.
What kind of cameras and film do you use?
For still photography, I use digital cameras mostly these days, including the Nikon D7100. For all my video since 1999, I've used Sony digital video cameras. Currently I am shooting XDCAM and HDV high-definition video. I'm also using "wearable" cameras now by Midland or GoPro.

I've shot slides in the past, but it's been a while due to the convenience and increasing quality of digital.

I use Bogen/Manfrotto tripods and window-pod (it clamps on the car window, letting me take pictures from inside the vehicle when lightning is nearby).
How do you take lightning pictures?
It's essential to have a tripod and a camera that can do time exposures (manual bulb setting). When I used film, I used 100 ASA slide film; some photographers use even slower film (e.g. 50 ASA). For digital, I set the ASA/ISO as low as possible - e.g. 100. For lightning, I usually set the F-stop somewhere between F4 and F11, depending on how close and bright the lightning is. Sometimes I will go lower or higher on the F-stop depending on the light situation, especially if I'm trying to capture daytime lightning.

If there's still a fair amount of light in the sky, I will set the F-stop high, at F11 or F16, and put the camera on Aperture priority, letting it determine the length of time the shutter can stay open. If it's dark, and the lightning's bright, I might put it at F5.6 or F8 and then, using a cable release (or a digital remote), hold the shutter open until I get one or two good bolts - or, if I'm getting no distinct bolts, close it after several seconds, when the frame is "polluted" with light (too much in-cloud lightning or ambient light). If I get even one good lightning shot a roll - or in 30 photos - I consider it a lucky shot.

With a quality digital camera that allows manual settings, you can take lightning photos. The exposures can't be too long, or you'll get "noise" in the picture. The nice thing about digital is that you can see if your exposure is good, and you can trash the frames that didn't catch a bolt.
I can't find what I want on your search engine.
No search engine is perfect. But here's one hint: spell the word right. I am amazed at how often these words are misspelled in people's searches: lightning, tornadoes or tornado, and hurricane. Another hint: Don't use generic terms such as "photo," "pictures" or "sky." I use those so frequently on Sky Diary's pages that you are likely to get a zillion results. If you want to see pictures, go to the storm gallery page or to my professional photography galleries.