:: home

:: books

:: gallery

:: data

:: blog

:: kids

:: shop

:: bio

:: help

:: contact

:: ChrisKridler.com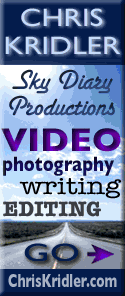 Words/images COPYRIGHT © 2018 by Chris Kridler. All rights reserved. Do not use Sky Diary photos on other Web sites. Personal use as computer wallpaper is permitted, but do not distribute photos. Write for information about purchasing video, photographs or articles. | Frequently asked questions

storm gallery: Feb. 11-12, 2010
Feb. 11-12, 2010: Right after one of New York's Snowmageddons this winter, I got some snowy shots in and around Central Park. Share

Click on the thumbnails to see a larger image, or view these photos as a gallery. From the gallery pages, click the "up" arrow to return to this index.


Snowmageddon in the northeast, as seen from a plane Feb. 11, 2010.
Lots of folks and photographers were out.
Snow lends a sparkle to the Central Park Zoo area.
Fluffy stuff.
I love Central Park's mini mountains.
The trees reach to the sky.
Wide paths, white snow.
A tiny bit of snowmelt in the sun.
The sled dog statue looked happy.
Fun with shadows.
Under the bridge and into the snow.
An arch invites walkers to enter the winter wonderland.
It's better to walk with a friend...
The fisheye lens gives a curve to those park paths.
A tree in knots.
A few mounds of untouched snow on benches.
Long arms.
The statues don't mind the snow.
I just love those snowy branches.
Walter Scott keeps writing...
City meets nature.
Hard-working horses.
A tangled web they weave.
Buildings, horses and dirty snow.
The trees are so civilized.
Winter texture.
Slow stampede.
A snowman suns himself.
A trunk of many tales.
go to the main gallery page | go to storm chasers
go to reports from 2009, 2008, 2007, 2006, 2005, 2004, 2003, 2002, 2001, 2000, 1999, 1998, 1997