:: home

:: books

:: gallery

:: data

:: blog

:: kids

:: shop

:: bio

:: help

:: contact

:: ChrisKridler.com




advertisement: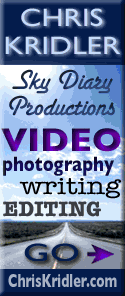 Words/images COPYRIGHT © 2016 by Chris Kridler. All rights reserved. Do not use Sky Diary photos on other Web sites. Personal use as computer wallpaper is permitted, but do not distribute photos. Write for information about purchasing video, photographs or articles. | Frequently asked questions

storm gallery: 2002
Here are some images from the 2002 storm chase.
May 17-22: A chase to Wyoming is a magnificently windy experience

May 23-24: A handful of tornadoes in the Texas panhandle

May 26: A festival of gustnadoes in the Oklahoma panhandle

May 28-29: Storms lead us on in southwest Texas

June 2-3: Horseshoe funnels in Nebraska and a blast of hail in Colorado

June 4: A rotating storm, gustnadoes, a pretty supercell and a race against hail

July 23 & 25: Triggered lightning at Camp Blanding, Florida



Read the diary from this year's Plains tornado chases
Here are a couple of images that didn't make the reports: a great sign at the erstwhile Cypress Knee Museum in Central Florida, and lightning over the Indian River Lagoon on Oct. 22, 2002.