:: home

:: books

:: gallery

:: data

:: blog

:: kids

:: shop

:: bio

:: help

:: contact

:: ChrisKridler.com




advertisement: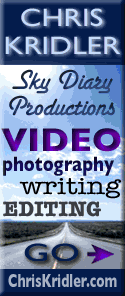 Words/images COPYRIGHT © 2016 by Chris Kridler. All rights reserved. Do not use Sky Diary photos on other Web sites. Personal use as computer wallpaper is permitted, but do not distribute photos. Write for information about purchasing video, photographs or articles. | Frequently asked questions

July 25, 2002, triggered lightning video
Camp Blanding is a National Guard Facility near Starke, Florida, northeast of Gainesville, where the University of Florida has a lightning research facility. There, several experiments take advantage of triggered lightning, which is achieved during a storm when electric fields are just right.

A small rocket is launched from a tower, trailing a copper and Kevlar wire. Positive charge builds up on the nose of the rocket, attracting negative charge from the cloud and triggering lightning. The first bolt travels down the wire and vaporizes it. Return strokes resemble natural lightning and are therefore useful for research.

You'll need QuickTime 4 or higher (a free plug-in) to view it. NOTE: If you can't hear sound, you probably haven't upgraded to QuickTime 4 or higher.
Here's a freeze-frame from the first strike in the video. The first bolt, which travels down the wire, goes below the tower, while the return strokes go from the top of the tower to the cloud.
go to the main gallery page | go to storm chasers
go to reports from 2002, 2001, 2000, 1999, 1998, 1997