:: home

:: books

:: gallery

:: data

:: blog

:: kids

:: shop

:: bio

:: help

:: contact

:: ChrisKridler.com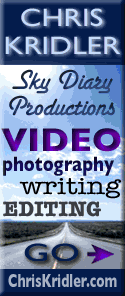 Words/images COPYRIGHT © 2018 by Chris Kridler. All rights reserved. Do not use Sky Diary photos on other Web sites. Personal use as computer wallpaper is permitted, but do not distribute photos. Write for information about purchasing video, photographs or articles. | Frequently asked questions

dispatches: January 2010
back | archive | current Share


Those little white streaks are sleet pellets bouncing off the top of a tiki on our deck Jan. 9.
18 JANUARY 2010

Frozen Florida: At the end of a week of freezes, a neighbor down the street got frisky and hosed down a tree branch. Result? Gorgeous icicles on Jan. 10 in Rockledge. See the photos.



From chills to sweat: It was freezing here in east-central Florida a week ago. Then there were record high temperatures yesterday (82 in Melbourne). Craziness. But the ice sure was pretty on Jan. 10 - even if manufactured by a neighbor and a water hose. We did have sleet on Jan. 9, though, followed by a few snowflakes. Craziness. Now my tropical palms are paying the price, with brown fronds and a generally pathetic demeanor.