:: home

:: books

:: gallery

:: data

:: blog

:: kids

:: shop

:: bio

:: help

:: contact

:: ChrisKridler.com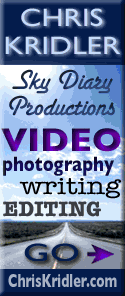 Words/images COPYRIGHT © 2018 by Chris Kridler. All rights reserved. Do not use Sky Diary photos on other Web sites. Personal use as computer wallpaper is permitted, but do not distribute photos. Write for information about purchasing video, photographs or articles. | Frequently asked questions

storm gallery: Jan. 6-10, 2010
Jan. 6-10, 2010: Several nights of freezing temperatures shocked central Florida and its plants at the start of January. I caught a few photos of sleet and ice - a very strange thing to see in Brevard County. Share

Click on the thumbnails to see a larger image, or view these photos as a gallery. From the gallery pages, click the "up" arrow to return to this index.


On Jan. 6, 2010, our fountain froze, as it did many days during the cold snap.
Sleet bounces off the head of a tiki in Rockledge, Florida, on Jan. 9, 2010.
I have to thank the neighbors and their gratuitous use of a garden hose for this ice sculpture Jan. 10, 2010, in Rockledge, Florida.
Hose meets grass meets freezing temperatures Jan. 10.
A shifting branch during the melt meant crooked icicles Jan. 10.
Another look at the neighbors' ice fantasy - when hose meets tree meets freezing temperatures on Jan. 10, 2010.
Water drips off icicles created by a neighbor who hosed a tree branch during freezing temperatures in Brevard County, Florida, on Jan. 10, 2010.
The coconut palm, which really shouldn't be grown in our area, was wrapped to help protect it during the week of freezes. It was a lot browner when all was done. It's not clear whether it will survive.
go to the main gallery page | go to storm chasers
go to reports from 2009, 2008, 2007, 2006, 2005, 2004, 2003, 2002, 2001, 2000, 1999, 1998, 1997