:: home

:: books

:: gallery

:: data

:: blog

:: kids

:: shop

:: bio

:: help

:: contact

:: ChrisKridler.com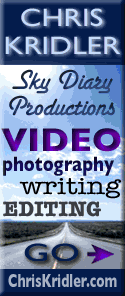 Words/images COPYRIGHT © 2018 by Chris Kridler. All rights reserved. Do not use Sky Diary photos on other Web sites. Personal use as computer wallpaper is permitted, but do not distribute photos. Write for information about purchasing video, photographs or articles. | Frequently asked questions

dispatches: April 2009
back | archive | current Share

29 APRIL 2009
Ready, set, go? I'm thinking about embarking on my storm-chasing safari this weekend. The models have been inconsistent, but it looks like there might be something to chase next week. In fact, there might be something to chase Sunday, but if I start driving Saturday, I might not get there in time. As always, time will tell. Come back soon for updates!

6 APRIL 2009
Go, rockets, go: We had another pretty launch from Cape Canaveral over the weekend, as an Atlas V lifted a communications satellite to orbit April 3.

Hermit crab on the Atlantic Ocean side of Islamorada.


I'm a little behind on linking photos, but I also had a great time the weekend before at the storm chaser picnic in the Florida Keys. Jim Leonard was the host. Check out the pix. It seemed like every shell on Jim's beach, no matter how tiny, had a creature in it. In addition to communing with the tropics, we also watched a ridiculous amount of storm video, so I'm back to obsessing about tornadoes. I hope to head west in May for my annual chase-cation. With that in mind, I just did a thorough update of my data links for chasing. It's always fun figuring out where weather entities have moved their good stuff, such as radar and satellite images, but I'm grateful they're out there.