:: home

:: books

:: gallery

:: data

:: blog

:: kids

:: shop

:: bio

:: help

:: contact

:: ChrisKridler.com




advertisement: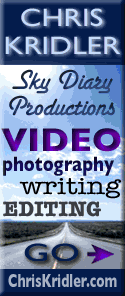 Words/images COPYRIGHT © 2016 by Chris Kridler. All rights reserved. Do not use Sky Diary photos on other Web sites. Personal use as computer wallpaper is permitted, but do not distribute photos. Write for information about purchasing video, photographs or articles. | Frequently asked questions

These are links to data that will help storm chasers track down Plains supercells and tornadoes, Florida storms and tropical weather (hurricanes). If you find a link that doesn't work, please let me know. Clicking on these data links will open the selected page in a new window, so you can close that window when you're done and quickly return to the data links. See the disclaimer.

Tornado Alley & general links
Storm Prediction Center outlooks
Data plots
Models & long-term forecasts
Watches and warnings
Satellite data
Radar data
General data links
Reference
Florida
Also see general links in the Tornado Alley section, above, and tropical links, below.
Tropical