:: home

:: books

:: gallery

:: data

:: blog

:: kids

:: shop

:: bio

:: help

:: contact

:: ChrisKridler.com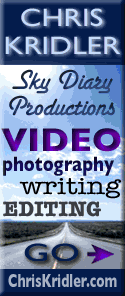 Words/images COPYRIGHT © 2018 by Chris Kridler. All rights reserved. Do not use Sky Diary photos on other Web sites. Personal use as computer wallpaper is permitted, but do not distribute photos. Write for information about purchasing video, photographs or articles. | Frequently asked questions

dispatches: August-September 2005
back | archive | current

25 SEPTEMBER 2005
Where have I been? Limbo. Blog break. Pennsylvania. Out sick. All of those things.

Freedy Johnston, 18 September 2005


And it's my birthday. I was in Pennsylvania for family stuff but took a night to see Freedy Johnston at a Phoenixville coffeehouse called Steel City. Years ago I saw him play in Towson, Md., just north of Baltimore. I told him his song "Bad Reputation" was a great inspiration as I wrote the novel I'm now trying to get published. Turns out he's from Kinsley, Kansas - I've actually been there while chasing storms. It's a small town that calls itself "Midway, USA" - halfway between San Francisco and New York. Talk about middle America. Freedy was wonderful, and his commentary was biting (bitter?) and funny. He has a following but never really made the big time, yet his music is as stellar as ever. I had a strange deja vu experience seeing him again, recalling years past and things I've lost, am losing ... family woes, and that feeling of being a decade older. Today, I'm just a year older, I swear. I hope I've gained as much as I've lost, in experience, anyway.

I'm busy getting ready to do my first craft shows, where I will sell my photography. I'll start offering prints on the Web site soon, as well, but if you're in central Florida, look for me at the Cocoa Village Craft Shows on Oct. 15-16 and Dec. 3-4. Yes, the rotating picture on their Web site drives me nuts, too.

6 SEPTEMBER 2005


Triple threat, Sept. 6 (NOAA image)


Tropical heat: You can feel the steam here in Florida, look outside and see the waves of thick gray clouds, the tropical moisture, the showers. Feels like hurricane season. A new tropical depression, soon to be Tropical Storm Ophelia, is offshore and is likely to dump a bunch of rain on us, at the least, as it comes onto land. The plants will probably be happy. I'm watching warily to see just how much it will strengthen. I can't believe we're just about at the "O" storm and we haven't even reached the official peak of the season yet.

1 SEPTEMBER 2005


Dust devils on Mars


Otherworldly: Ugh. New Orleans is like "Waterworld," lawless, brutal, heartbreaking. Katrina is half the problem; people are the other half, though there are heroes among the villains. All the stress of last year's hurricane season is coming back, only this reality is so much worse. Where's the leadership? One way to help is to donate to the Red Cross. Don't send clothes and other stuff they can't deliver. Send money. Meanwhile, if you look at the animated tropical models on the data page, you'll see a little disturbance off Africa becoming a Cat 4/5 threatening the islands next week. Will Florida be next?

I am feeling a need for escape today and look to Mars for ethereal assurance. The dust devils there look like tornadoes here, and the Spirit rover has had some good "chasing" lately. See this amazing sequence.

30 AUGUST 2005
Chatty: Thanks to the guys on the Net radio show Severe Weather Central, who interviewed me tonight. It was fun and kind of them to have me on, given the HUGE and horrible story coming out of the Gulf in Katrina's aftermath: chaos, natural and manmade. I hope the recovery is as fast as it can be, given the terrible circumstances.

29 AUGUST 2005


Lightning over the Grand Canal in Venice, Italy, Aug. 20


On the radio: Tuesday night, around 9:45 p.m. EDT, I'm again scheduled to be on the Internet radio show Severe Weather Central. Last time I was bumped by hurricane coverage. By all rights, I should be again - Hurricane Katrina is a monster. I feel for the people on the Gulf Coast. Here on Florida's east-central coast, we avoided that level of devastation last year but learned a lot about anxiety and misery.

My husband and I just got back from Europe. I love how weather unfolds no matter what the setting - hence, lightning in Venice, over the Grand Canal. It was dramatic, beautiful, a note of the eternally changing now of nature against the backdrop of centuries of history, slowly being eroded by water.

11 AUGUST 2005
Florida chasing: It's times like last night that I wish I could combine a life in Florida with a chase life in the Plains, have both at once.

Lightning as seen from Titusville, Florida, Aug. 10


Yes, there's such a thing as a chase life, imbued with the freedom of following nature's whims - the weather - all over the grass-prairie Earth. And in the Plains, it's possible to chase for hours, to drive into the forever horizon, after storms that crank and crank ... not like in Florida. In Florida, if you've noticed lightning in a cloud and it's more than 10 or 20 miles away, it's almost always too late to chase it. By the time you get into position - last night, it was the mosquito-infested St. Johns River, then the Titusville waterfront - the storms are dying already. I got almost nothing for my trouble, except a conversation with a drunken veterinarian-angler who was outraged, convinced that another guy in the park was claiming falsely to be a rocket scientist. Hey, this is the Space Coast. We have a lot of rocket scientists. And, like me, they're all really glad the shuttle is safely back on Earth. I feel a chapter has closed in my own life, full circle from Columbia to now. Time to start a new book, in more ways than one.

2 AUGUST 2005


Gracie chases, Aug. 2


Finally, storms: It was so nice to hear thunder and see something on the radar worth looking at. I headed out this evening and parked on a bridge in a construction zone in Port Canaveral to see a storm roiling slowly toward me over the water. It didn't do much except lower little tongues of scudding clouds and throw down some lightning. There were some fools fishing, knee-deep in the water, right by the drawbridge as the storm approached. Somehow, they avoided getting fried by lightning. Local chaser Cheryl Chang drove up to the bridge and watched the tempest, too.

Gracie came with me today. She's a puppy on the verge of doghood, and she took it like a champ. I think she's been desensitized by construction noise on our street and is reassured by my happy demeanor as the thunder rolls. There were moments when huge bolts were crashing close by, real sky-rippers, and she merely looked at me as if to say, "Gee, that was loud." Then she took a nap! You can't get in the way of a puppy and her nap. What a good dog.