:: home

:: books

:: gallery

:: data

:: blog

:: kids

:: shop

:: bio

:: help

:: contact

:: ChrisKridler.com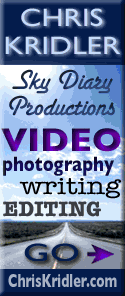 Words/images COPYRIGHT © 2018 by Chris Kridler. All rights reserved. Do not use Sky Diary photos on other Web sites. Personal use as computer wallpaper is permitted, but do not distribute photos. Write for information about purchasing video, photographs or articles. | Frequently asked questions

storm gallery: July 22-August 14, 1999
To see a larger version of a photo, just click on its thumbnail image below. Then, to get back to this page, hit the "back" button on your browser. Photos noted as taken from video were shot with a digital video camera.
| | |
| --- | --- |
| Maryland, in the grip of a drought, still had a rare storm or two in July. Here's a weakening one the evening of July 22 as it retreats to the east out of Annapolis, Maryland, dimly lit by lightning. | On the evening of July 31 -- actually August 1 at 2 a.m. -- a storm went through downtown Baltimore, providing a few good lightning bolts. This one was shot from my car as I drove north on Calvert Street. Photo from video. |
A line of severe storms, including this one in Glen Burnie, Maryland, roared through the East Coast ahead of a cold front on August 14. In Maryland, all I saw was pea-sized hail, torrents of rain and some lightning. Photo from video.
| | |
| --- | --- |
| The line of severe storms sprouted a few good lightning bolts. This one was visible on a frame of my video but happened too quickly for me to see it with the naked eye. Photo from video. | Here's a more obvious cloud-to-ground bolt from the same storm. Photo from video. |
Go to more chase accounts and photos:

May 9-16: Picturesque storms and three tornadoes in one day in Kansas

May 20-24: A tornado in Texas, funnels, a gorgeous gust front, and blistering lightning

May 25-31: Supercells, a tornado (or was it a tricky lowering?), a spectacular twilight, and some beautiful cells in Kansas

June 1-5: A double rainbow in Oklahoma, a funnel, a bust, and two wild Nebraska tornadoes

July 22-August 14: A few lightning storms in the middle of a drought in Maryland

August 21-25: Dust devils and daytime convection during the Arizona monsoon

November: Storms, a rainbow and fabulous sunsets on Florida's Space Coast


go to the main gallery page | go to storm chasers
go to reports from 2001, 2000, 1999, 1998, 1997