:: home

:: books

:: gallery

:: data

:: blog

:: kids

:: shop

:: bio

:: help

:: contact

:: ChrisKridler.com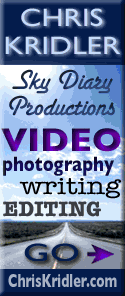 Words/images COPYRIGHT © 2018 by Chris Kridler. All rights reserved. Do not use Sky Diary photos on other Web sites. Personal use as computer wallpaper is permitted, but do not distribute photos. Write for information about purchasing video, photographs or articles. | Frequently asked questions

storm gallery: May 9-16, 1999
To see a larger version of a photo, just click on its thumbnail image below. Then, to get back to this page, hit the "back" button on your browser. Photos noted as taken from video were shot with a digital video camera.
| | |
| --- | --- |
| My spring chase in the Plains started out with a messy bunch of severe storms in western Oklahoma and the eastern Texas panhandle on May 9. Dave Lewison and I were sharing the drive out west from the East Coast and ended up heading right into a chase. Had to scoot from Crowell, Texas, when a tornado warning was issued on a mean-looking rain-wrapped storm as darkness was settling in. (We couldn't see anything anyway.) Photo from video. | On May 10, a chase that took us from northern Oklahoma into Kansas resulted in this picturesque storm, whose backsheared anvil was illuminated by the setting sun. |
A mushy mess of severe storms in north Texas on May 11 still offered a few pretty moments. Here's the trailing western end of one of the storms around sunset. Photo from video.
| | |
| --- | --- |
| A storm in far southwestern Nebraska on May 14, with a tornado warning on it (but apparently no tornado), turned into an incredibly dusty gust front. Here, the clouds roil. Photo from video. | With a BBC crew following us, we tried to get to a place to stay that night and ended up driving through a line of severe storms for several grueling hours. The highlight: a bunch of hail that coated the road and pooled in spots in northern Kansas. Photo from video. |
| | |
| --- | --- |
| We picked up 1.5-inch hail out of the May 14 storms but saw even bigger stuff by the side of the road. It's a good thing we pulled over when we did to avoid the worst of it. Photo from video. | The hail in the May 14 storms produced hail fog, which can be seen illuminated by lightning in this picture. There's also hail on the road here, but in some places, it was coated so thickly it was like driving on gravel. Photo from video. |
| | |
| --- | --- |
| On May 16, Dave and I chose a target area a bit east of the center of Kansas, where the moisture and convective potential seemed greatest as a cold front came through. Dewpoints were in the low 70s. Once the towers started building, the situation became explosive. Photo from video. | The tower in the previous photograph built rapidly into a storm that produced reported tennis-ball-size hail and this slender tornado at Enterprise, Kansas. It was distant and brief, though damage was reported. Photo from video. |
We only got a few seconds' look at the second tornado, in Marion County, Kansas. It was eerie to hear the tornado sirens in the distance as it writhed over the landscape. Photo from video.
The third tornado we saw in Kansas on May 16 lasted long enough for us to film a minute or two. Here you see much of its life cycle, from when it first touched the ground to its roping-out stage.
| | |
| --- | --- |
| The sunset on May 16 was pretty spectacular. In both pictures, mammatus clouds catch the light ... | This was before we headed back to Oklahoma. On the way, we stopped to wait out the storms in Wichita, where we narrowly escaped the flash floods as lightning zapped the ground all around and disrupted electric power. Photo from video. |
Go to more chase accounts and photos:

May 9-16: Picturesque storms and three tornadoes in one day in Kansas

May 20-24: A tornado in Texas, funnels, a gorgeous gust front, and blistering lightning

May 25-31: Supercells, a tornado (or was it a tricky lowering?), a spectacular twilight, and some beautiful cells in Kansas

June 1-5: A double rainbow in Oklahoma, a funnel, a bust, and two wild Nebraska tornadoes

July 22-August 14: A few lightning storms in the middle of a drought in Maryland

August 21-25: Dust devils and daytime convection during the Arizona monsoon

November: Storms, a rainbow and fabulous sunsets on Florida's Space Coast


go to the main gallery page | go to storm chasers
go to reports from 2001, 2000, 1999, 1998, 1997