:: home

:: books

:: gallery

:: data

:: blog

:: kids

:: shop

:: bio

:: help

:: contact

:: ChrisKridler.com




advertisement: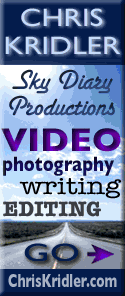 Words/images COPYRIGHT © 2016 by Chris Kridler. All rights reserved. Do not use Sky Diary photos on other Web sites. Personal use as computer wallpaper is permitted, but do not distribute photos. Write for information about purchasing video, photographs or articles. | Frequently asked questions

gallery: June 3, 2012
June 3, 2012: Some of my chaser friends started the drive home today, while others considered their options. I decided to target northwest Oklahoma, from Woodward to Alva. The storms that formed barely moved, but I was delighted to end the day - and my 2012 Tornado Alley chase - in the windmill park that inspired the fictional one in my novel Funnel Vision. Share
Click on the thumbnails to see a larger image. From the gallery pages, click "up" to return to this index.



On the way, to my target of northwest Oklahoma, I was pleased to see the Big Well attraction had been rebuilt at Greensburg, Kansas, which is showing significant recovery since the devastating 2007 tornado.

I briefly ran into Cloud 9 Tours at Alva, Oklahoma, and drove with them for a bit, then broke off to chase this little storm northwest of Woodward, Oklahoma.

I mostly hovered around and south of the town of May, east of the nearly stationary severe storm, so I could get shots of the structure.

As I watched the storm, I also watched this spider lurking in the funnel of webs it had built in its hole. This does appear to be a Funnel-Web Spider or Funnel Weaver.

The storm had beautiful mammatus in its anvil.

A vertical shot showing the mammatus clouds.

I changed locations and got a bit broader view of the storm, which wasn't growing or advancing.

As that storm died in the middle of an unrealized tornado watch, I ran into Daniel Shaw and hopped south to Shattuck, Oklahoma, and its windmill park - the inspiration for the one in my novel "Funnel Vision."

I had always wanted to shoot a storm over this park. There was a burgeoning storm to the southeast (shown) and the setting sun to the west.

Love the light and the windmills!

I believe some of these are new since I last visited the park.

This is one of my favorites from the stormy sunset in Shattuck's windmill park.

The light fades but is no less magical.

A distant storm, and the power of wind.

A last-gasp effort to get lightning yielded a few crawlers by I-40 on my way to the Oklahoma City area for the night, and the end of my Tornado Alley chase.

Here's a wide shot of many of the park's windmills against the sunset. Daniel is almost lost in the dark foreground at right.
---
2012 reports and photos | blog
All photos Copyright 2012 by Chris Kridler, ChrisKridler.com, SkyDiary.com
go to the main gallery page
go to reports from 2012, 2011, 2010, 2009, 2008, 2007, 2006, 2005, 2004, 2003, 2002, 2001, 2000, 1999, 1998, 1997