:: home

:: books

:: gallery

:: data

:: blog

:: kids

:: shop

:: bio

:: help

:: contact

:: ChrisKridler.com




advertisement: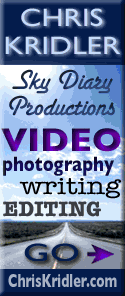 Words/images COPYRIGHT © 2016 by Chris Kridler. All rights reserved. Do not use Sky Diary photos on other Web sites. Personal use as computer wallpaper is permitted, but do not distribute photos. Write for information about purchasing video, photographs or articles. | Frequently asked questions

gallery: May 23, 2012
May 23, 2012: I chased with Dave Lewison, Scott McPartland, Dayna Vettese, Brad Rousseau, and Simon Eng, targeting southern Nebraska near the Kansas border. Storms formed, but they stayed northeast of us instead of expanding to our location as we'd hoped. Despite a little storminess, I'd call this a bust. But the cows were cool. Share
Click on the thumbnails to see a larger image. From the gallery pages, click "up" to return to this index.



May 23, 2012, north of Taylor, Nebraska, our convoy encountered a herd of cows.


We waited in southern Nebraska near the Kansas border for storms to fire.


Caption: We took photos and video as we waited...


Dayna snaps a few.


Brad supplicates the sky.


Dayna and Brad's hail shields were not getting a workout.


And we acknowledged that all the storms firing farther north were not going to work their way down the line. This is a look west.


I still parted from the group for a bit and went north but realized I couldn't catch the severe storms.


So I snapped some wildflowers.


I took a few images of growing but still unimpressive storms.


And I saw darkness fall on our hopes for the day as the moon rose.

---
2012 reports and photos | blog
All photos Copyright 2012 by Chris Kridler, ChrisKridler.com, SkyDiary.com
go to the main gallery page
go to reports from 2012, 2011, 2010, 2009, 2008, 2007, 2006, 2005, 2004, 2003, 2002, 2001, 2000, 1999, 1998, 1997