:: home

:: books

:: gallery

:: data

:: blog

:: kids

:: shop

:: bio

:: help

:: contact

:: ChrisKridler.com




advertisement: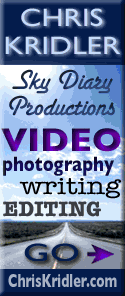 Words/images COPYRIGHT © 2016 by Chris Kridler. All rights reserved. Do not use Sky Diary photos on other Web sites. Personal use as computer wallpaper is permitted, but do not distribute photos. Write for information about purchasing video, photographs or articles. | Frequently asked questions

gallery: May 22, 2012
May 22, 2012: My target was initially the South/North Dakota border. Though I knew the best backed winds were farther north, I didn't think I could get to the Canadian border in time, and I liked the forecast dryline push, among other factors. However, I thought the grunge would inhibit convection, so I dropped south. In all, it was a smorgasbord of mostly weak storms, though friends and I saw a skinny shear funnel spinning out of the back of a dying storm. Amid all this, a pheasant hurtled at my car and snapped off my CB antenna. (See Daniel Shaw's video, below.) Share
Click on the thumbnails to see a larger image. From the gallery pages, click "up" to return to this index.



On May 22, my frenzied driving continued as I passed through Valentine, Nebraska, on the way to South Dakota.


My target was initially the South/North Dakota border. Eventually, to escape the grunge, I dropped south again - north of Pierre - and watched this shower. Photo by Chris Kridler, SkyDiary.com, ChrisKridler.com


It briefly became a nice little cell with minimal thunder.


Then it died a beautiful death.


I ran into old friends, and we attempted to chase a few cells as the day faded.


Unfortunately, a pheasant took a flyer at my car and completely snapped off the CB/weather radio antenna.


We hopped on I-90, and I noticed one of the cells had a shear funnel (white and skinny, upper right).


Here's another look at the tiny funnel, which persisted for a couple of minutes.

---
2012 reports and photos | blog
All photos Copyright 2012 by Chris Kridler, ChrisKridler.com, SkyDiary.com
go to the main gallery page
go to reports from 2012, 2011, 2010, 2009, 2008, 2007, 2006, 2005, 2004, 2003, 2002, 2001, 2000, 1999, 1998, 1997