:: home

:: books

:: gallery

:: data

:: blog

:: kids

:: shop

:: bio

:: help

:: contact

:: ChrisKridler.com




advertisement: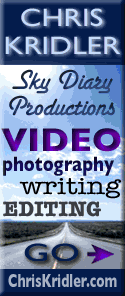 Words/images COPYRIGHT © 2016 by Chris Kridler. All rights reserved. Do not use Sky Diary photos on other Web sites. Personal use as computer wallpaper is permitted, but do not distribute photos. Write for information about purchasing video, photographs or articles. | Frequently asked questions

gallery: March 31, 2012
March 31, 2012: The Florida storm chaser party at Jim Leonard's place in Boynton Beach was made even better by some passing storms. Share
Click on the thumbnails to see a larger image. From the gallery pages, click "up" to return to this index.


2012 reports and photos | blog


go to the main gallery page
go to reports from 2012, 2011, 2010, 2009, 2008, 2007, 2006, 2005, 2004, 2003, 2002, 2001, 2000, 1999, 1998, 1997