:: home

:: books

:: gallery

:: data

:: blog

:: kids

:: shop

:: bio

:: help

:: contact

:: ChrisKridler.com




advertisement: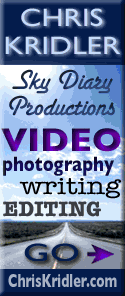 Words/images COPYRIGHT © 2016 by Chris Kridler. All rights reserved. Do not use Sky Diary photos on other Web sites. Personal use as computer wallpaper is permitted, but do not distribute photos. Write for information about purchasing video, photographs or articles. | Frequently asked questions

gallery: May 29, 2011
May 29, 2011: I chased with several friends today. In Salina, Kansas, we discussed whether to go to southeast Nebraska or central Kansas. We chose the former based on huge instability, but instead of a great storm, we were treated to the amazing vanishing supercell. Share
Click on the thumbnails to see a larger image, or view these photos as a gallery. From the gallery pages, click the "up" arrow to return to this index.


| | | |
| --- | --- | --- |
| | | |
| 29 MAY 2011 - We stopped in Beatrice, Nebraska, enticed by the huge instability forecast for this area. We met a lot of chasers, and Meghan tried to take care of this fledgling bird. I called a wildlife rescue organization that said to leave it where it was. She gave it water, and we had to leave it. Photo by Chris Kridler, chriskridler.com | 29 MAY 2011 - A couple of nice shear funnels indicated instability. Photo (from video) by Chris Kridler, chriskridler.com | 29 MAY 2011 - We resisted going after the storms in Kansas and waited for our area to fire. When this storm went up near Lincoln, it looked promising. Photo by Chris Kridler, chriskridler.com |
| | | |
| 29 MAY 2011 - The storm had lightning, shear and inflow and began to develop a base. Photo by Chris Kridler, chriskridler.com | 29 MAY 2011 - Good convection was going into the tower. Photo by Chris Kridler, chriskridler.com | 29 MAY 2011 - The storm's pretty laminar appearance promised good photos as it developed. Photo by Chris Kridler, chriskridler.com |
| | | |
| 29 MAY 2011 - The base indicated rotation. Photo by Chris Kridler, chriskridler.com | 29 MAY 2011 - Just 20 minutes later, the capping inversion had decapitated our storm. Photo by Chris Kridler, chriskridler.com | 29 MAY 2011 - You'd never guess this was a storm a few minutes before. I've never seen a cell vanish that fast. Photo by Chris Kridler, chriskridler.com |
go to the main gallery page | go to storm chasers
go to reports from 2011, 2010, 2009, 2008, 2007, 2006, 2005, 2004, 2003, 2002, 2001, 2000, 1999, 1998, 1997