:: home

:: books

:: gallery

:: data

:: blog

:: kids

:: shop

:: bio

:: help

:: contact

:: ChrisKridler.com




advertisement: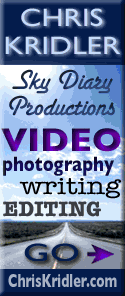 Words/images COPYRIGHT © 2016 by Chris Kridler. All rights reserved. Do not use Sky Diary photos on other Web sites. Personal use as computer wallpaper is permitted, but do not distribute photos. Write for information about purchasing video, photographs or articles. | Frequently asked questions

gallery: May 24, 2011
May 24, 2011: Today's outbreak offered extremely hazardous and difficult chasing. "Our" storm produced a beautiful tornado just before we arrived, and then we were behind the curve. I dallied to see a second line of storms forming, and by the time it collapsed, it really was too late to get ahead of the line, which was moving at highway speeds and offered no safe places to squeak around the big tornadoes they were dropping. I didn't have the will to punch the core of these monster storms. I've never seen a setup like that while chasing in the Plains. Compared with the May 3, 1999, outbreak, another famous day of destruction in Oklahoma, my understanding is that these tornadoes were moving faster and were more numerous and much harder to see. Several were wrapped in rain. In retrospect, I'm not the only chaser who didn't see much May 24, but I still feel bad about it. Share
Click on the thumbnails to see a larger image, or view these photos as a gallery. From the gallery pages, click the "up" arrow to return to this index.


| | | |
| --- | --- | --- |
| | | |
| 24 MAY 2011 - Dayna and Brad prepare the "Storm Hunters" van for the chase. Photo by Chris Kridler, chriskridler.com | 24 MAY 2011 - We chose to go after the first really mature storm, which put down a huge tornado at Canton Lake in Oklahoma that we didn't see. Photo by Chris Kridler, chriskridler.com | 24 MAY 2011 - We saw a wall cloud on the storm - the lifted tornado. Scott and Dave went into the precip and caught a rope tornado. I didn't, and I missed it, but saw these interesting "tubes" as the storm approached. Photo by Chris Kridler, chriskridler.com |
| | | |
| 24 MAY 2011 - Unfortunately, that storm was falling apart, and the storms in the south part of the line were going nuts - and traveling east at highway speeds as they began producing violent tornadoes. I was distracted by this second line behind the original storm. Photo by Chris Kridler, chriskridler.com | 24 MAY 2011 - Unfortunately, watching this storm put me even farther behind the line, making it difficult or dangerous to try to intercept the huge tornadoes just to the south. D'oh! Photo by Chris Kridler, chriskridler.com | 24 MAY 2011 - At least this weak stuff was pretty and visible, unlike a lot of the wedges today. Photo by Chris Kridler, chriskridler.com |
| | | |
| 24 MAY 2011 - Photogenic, yes. Tornado, no. Photo by Chris Kridler, chriskridler.com | 24 MAY 2011 - This storm weakened. Photo by Chris Kridler, chriskridler.com | 24 MAY 2011 - I got one more shot. I drove up behind the line of storms and saw debris and intense lightning, but nothing else (not surprising) as they hauled east. It hurt to miss the meat of this historic event. Photo by Chris Kridler, chriskridler.com |
go to the main gallery page | go to storm chasers
go to reports from 2011, 2010, 2009, 2008, 2007, 2006, 2005, 2004, 2003, 2002, 2001, 2000, 1999, 1998, 1997