:: home

:: books

:: gallery

:: data

:: blog

:: kids

:: shop

:: bio

:: help

:: contact

:: ChrisKridler.com




advertisement: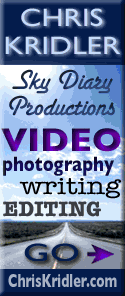 Words/images COPYRIGHT © 2016 by Chris Kridler. All rights reserved. Do not use Sky Diary photos on other Web sites. Personal use as computer wallpaper is permitted, but do not distribute photos. Write for information about purchasing video, photographs or articles. | Frequently asked questions

gallery: May 22, 2011
May 22, 2011: This day will go down in history as the day of the deadly Joplin, Missouri, tornado. Though I knew that would be a good area for storms, I also knew it is really difficult chase territory, involving a lot of hills and trees. Friends who were on that tornado said it was wrapped in rain, and they couldn't even see it crossing the Interstate just in front of them. While this tragedy was occurring, I was in southeast Oklahoma along with a lot of other chasers playing the high CAPE - convective available potential energy. In other words, a whole lot of fuel for storms. But the magic just wasn't there. Share
Click on the thumbnails to see a larger image, or view these photos as a gallery. From the gallery pages, click the "up" arrow to return to this index.


22 MAY 2011 - I liked the huge instability forecast for southern/southeastern Oklahoma, so I chose that as my target and watched turkey towers go up. Photo by Chris Kridler, chriskridler.com
22 MAY 2011 - In Davis, Oklahoma, the towers looked decent, but they couldn't get going, and storms were firing south of the Red River in Texas. Photo by Chris Kridler, chriskridler.com
22 MAY 2011 - After some driving in circles, I ended up in Davis, hoping to intercept hail from a storm coming out of Texas. It missed me by quite a bit but looked interesting. Photo by Chris Kridler, chriskridler.com
22 MAY 2011 - I followed the storm but didn't find the monster hail that fell elsewhere. Photo by Chris Kridler, chriskridler.com
22 MAY 2011 - A few pretty storms fired in eastern Oklahoma, but the meaty stuff with tornado warnings was in northeast Oklahoma going into Missouri, where Joplin was devastated. Photo by Chris Kridler, chriskridler.com
22 MAY 2011 - Hail missed me again in Wynnewood. Photo by Chris Kridler, chriskridler.com
22 MAY 2011 - This was the second tarantula I saw crossing the road in southeast Oklahoma this day. Photo by Chris Kridler, chriskridler.com
22 MAY 2011 - I grabbed a few sunset photos in Pauls Valley area. Photo by Chris Kridler, chriskridler.com
22 MAY 2011 - Note the sky has cleared out to the west. Photo by Chris Kridler, chriskridler.com
22 MAY 2011 - Nice light on the dying storms. Photo by Chris Kridler, chriskridler.com
22 MAY 2011 - There goes the sun, and the chase. Photo by Chris Kridler, chriskridler.com
go to the main gallery page | go to storm chasers
go to reports from 2011, 2010, 2009, 2008, 2007, 2006, 2005, 2004, 2003, 2002, 2001, 2000, 1999, 1998, 1997