:: home

:: books

:: gallery

:: data

:: blog

:: kids

:: shop

:: bio

:: help

:: contact

:: ChrisKridler.com




advertisement: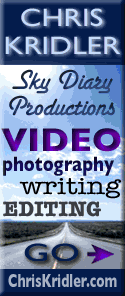 Words/images COPYRIGHT © 2016 by Chris Kridler. All rights reserved. Do not use Sky Diary photos on other Web sites. Personal use as computer wallpaper is permitted, but do not distribute photos. Write for information about purchasing video, photographs or articles. | Frequently asked questions

gallery: May 12, 2011
May 12, 2011: It was another day of a churning low and crazy storm motions as the cells in question formed and then moved north or west around the low pressure. My first thought was northeast Kansas, but as the low's position became more evident on the computer models, I felt it was important to go to eastern Nebraska, where the surface winds would be backed, thus aiding rotation. I spoke with Steve Sponsler and with Daniel Shaw, and Daniel and I decided to go for the Nebraska target, despite the Storm Prediction Center's more likely tornado risk farther south. It was a good call, even if these storms didn't produce any tornadoes that we saw (there were a few reports, and at least one confirmed). We were in York when the first storm went up and a tornado watch came out. We got to the storm fairly quickly, but as the whole line of convection exploded, the potential for good, photogenic storms fell. It was an interesting chase, though, as storms kept training over the same area. The storm system almost looked like a hurricane over Nebraska on radar. Share
Click on the thumbnails to see a larger image, or view these photos as a gallery. From the gallery pages, click the "up" arrow to return to this index.


| | | |
| --- | --- | --- |
| | | |
| 12 MAY 2011 - Our forecast brought us to southeast Nebraska, in hopes storms would fire to the east/north of the low. Here's the convection at York just before the first storm popped up. Photo by Chris Kridler, chriskridler.com | 12 MAY 2011 - Here's the view out the front window as we headed west on I-80 toward the first storm in our target area. The storm's anvil can just be seen in the distance. Photo by Chris Kridler, chriskridler.com | 12 MAY 2011 - A little closer to the storm, which was west of Grand Island, Nebraska. Photo by Chris Kridler, chriskridler.com |
| | | |
| 12 MAY 2011 - We stopped to get a shot of the storm just before it became tornado-warned. Photo by Chris Kridler, chriskridler.com | 12 MAY 2011 - A fresh storm just to the east also looked enticing. Photo by Chris Kridler, chriskridler.com | 12 MAY 2011 - To the right of the two storms, a line of towers formed, about to parade around the area of low pressure. Photo by Chris Kridler, chriskridler.com |
| | | |
| 12 MAY 2011 - Another look at the second storm, with its intriguing base. Photo by Chris Kridler, chriskridler.com | 12 MAY 2011 - It was very difficult to see under the base of the tornado-warned storm, which put out a cold outflow boundary. Photo by Chris Kridler, chriskridler.com | 12 MAY 2011 - The base of the second storm began to form a wall cloud. Photo by Chris Kridler, chriskridler.com |
| | | |
| 12 MAY 2011 - A closeup of the second storm's base. Photo by Chris Kridler, chriskridler.com | 12 MAY 2011 - A wall cloud - or perhaps it was a funnel - formed under the second storm, but it didn't produce a tornado. Photo by Chris Kridler, chriskridler.com | 12 MAY 2011 - A wide view of the base. Photo by Chris Kridler, chriskridler.com |
| | | |
| 12 MAY 2011 - Daniel takes a photo of the storms. Photo by Chris Kridler, chriskridler.com | 12 MAY 2011 - We got closer to storm No. 1, which had developed an impressive hail core. Photo by Chris Kridler, chriskridler.com | 12 MAY 2011 - Here's another shot of gnarly storm No. 1, but we didn't see a tornado. Photo by Chris Kridler, chriskridler.com |
| | | |
| 12 MAY 2011 - We moved east to get on a storm near Grand Island as the whole line of cloud towers went up. Photo by Chris Kridler, chriskridler.com | 12 MAY 2011 - The storm lost intensity but was still pretty. I shot photos as Daniel went down the road to chase another storm. Photo by Chris Kridler, chriskridler.com | 12 MAY 2011 - This scudding cloud was suggestive of a funnel, but I think it was just scud. Photo by Chris Kridler, chriskridler.com |
| | | |
| 12 MAY 2011 - More cloud gymnastics under the storm. Photo by Chris Kridler, chriskridler.com | 12 MAY 2011 - Storms continued to fire and move counter-clockwise around the low, or drift north. It was a severe mess, with moments of prettiness. Photo by Chris Kridler, chriskridler.com | 12 MAY 2011 - This severe storm was the last I photographed before giving up for the day. Photo by Chris Kridler, chriskridler.com |
go to the main gallery page | go to storm chasers
go to reports from 2011, 2010, 2009, 2008, 2007, 2006, 2005, 2004, 2003, 2002, 2001, 2000, 1999, 1998, 1997