:: home

:: books

:: gallery

:: data

:: blog

:: kids

:: shop

:: bio

:: help

:: contact

:: ChrisKridler.com




advertisement: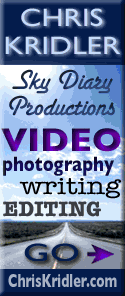 Words/images COPYRIGHT © 2016 by Chris Kridler. All rights reserved. Do not use Sky Diary photos on other Web sites. Personal use as computer wallpaper is permitted, but do not distribute photos. Write for information about purchasing video, photographs or articles. | Frequently asked questions

gallery: May 11, 2011
May 11, 2011: It's hardly worth summarizing today, except to note that the days with the highest expectations - a couple of days ago, this seemed as if it would be the best Plains chase day of the first half of May - often don't meet those expectations. Were there storms? Yes. But despite some tornadoes early in the day in an area deemed not worth chasing, overall, this was not a big tornado day, despite a strong upper trough and other good dynamics. In the morning, clouds and rain covered much of the area, but the grunge moved out, allowing for heating and therefore energy for storms. But the dewpoints stayed depressed, and the clustered storms in northeast Colorado/northwest Kansas didn't quite get their act together to produce tornadoes. I made a conscious choice to go after an isolated cell in my target area instead, around Dodge City and north, but it fizzled, and I ended up seeing little worth noting. Share
Click on the thumbnails to see a larger image, or view these photos as a gallery. From the gallery pages, click the "up" arrow to return to this index.


| | | |
| --- | --- | --- |
| | | |
| 11 MAY 2011 - The skies finally started clearing in Dodge City, Kansas, around lunchtime, allowing hope that heating, and instability for storms, would occur. By the way, this Cup of Jones is a great cafe, with wifi. Photo by Chris Kridler, chriskridler.com | 11 MAY 2011 - I liked the look of the cumulus clouds as I drove north to WaKeeney, Kansas, on I-70, from where I thought I could get into position on any storm that formed south of me or closer. Photo by Chris Kridler, chriskridler.com | 11 MAY 2011 - I grew impatient, and after 5 p.m. CDT, I drove west toward the ongoing storms in western Kansas/northeast Colorado. However, when an isolated cell went up near Dodge City, I decided to gamble on it. Unfortunately, the storm dissipated, and the line of CU shrunk to this. Photo by Chris Kridler, chriskridler.com |
| | | |
| 11 MAY 2011 - I ran into chaser Daniel Shaw, and we moseyed north to get sunset shots. That's inflow going into a severe storm. Photo by Chris Kridler, chriskridler.com | 11 MAY 2011 - Distant storms and sunset. Photo by Chris Kridler, chriskridler.com | 11 MAY 2011 - Fading away, the sunset officially dashed the day's expectations. Photo by Chris Kridler, chriskridler.com |
go to the main gallery page | go to storm chasers
go to reports from 2011, 2010, 2009, 2008, 2007, 2006, 2005, 2004, 2003, 2002, 2001, 2000, 1999, 1998, 1997