:: home

:: books

:: gallery

:: data

:: blog

:: kids

:: shop

:: bio

:: help

:: contact

:: ChrisKridler.com




advertisement: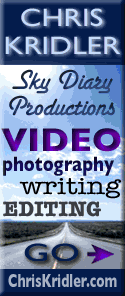 Words/images COPYRIGHT © 2016 by Chris Kridler. All rights reserved. Do not use Sky Diary photos on other Web sites. Personal use as computer wallpaper is permitted, but do not distribute photos. Write for information about purchasing video, photographs or articles. | Frequently asked questions

gallery: May 8, 2011
May 8, 2011: My hopes for storms were high enough on this day that I left Norman, Oklahoma, about 5 a.m. to head for Nebraska, thinking I might have to be in its northern extremes to catch a storm. My forecast was amended somewhat when I checked data at York, Nebraska; it appeared the storms might be farther south and east, if the cap - the warm layer of air above the surface - would break and let the storms build. It never did, though a small cluster of storms did form in the area farther northwest that many had been looking at earlier. I didn't feel like I'd missed much, though I got a few photos of a cumulus cloud that tried and failed to become a storm. Share

Click on the thumbnails to see a larger image, or view these photos as a gallery. From the gallery pages, click the "up" arrow to return to this index.


8 MAY 2011 - Sunrise in Oklahoma. Photo by Chris Kridler, chriskridler.com
8 MAY 2011 - Sunrise in Oklahoma. Photo by Chris Kridler, chriskridler.com
8 MAY 2011 - A pretty sky started the day in Oklahoma. Photo by Chris Kridler, chriskridler.com
8 MAY 2011 - A dusty track leads to the horizon in an Oklahoma farm field. Photo by Chris Kridler, chriskridler.com
8 MAY 2011 - Mid-level clouds just south of the Kansas border. Photo by Chris Kridler, chriskridler.com
8 MAY 2011 - And more (if you looked to the right) of the mid-level clouds just south of the Kansas-Nebraska border. Photo by Chris Kridler, chriskridler.com
8 MAY 2011 - I paused halfway between Columbus and Norfolk, Nebraska, to be near any storm that might fire in this juicy area near the warm front. None did. Photo by Chris Kridler, chriskridler.com
8 MAY 2011 - Near O'Neill, Nebraska, a cumulus that tried to break the cap didn't have much moisture to work with and no real base. Photo by Chris Kridler, chriskridler.com
8 MAY 2011 - Near O'Neill, Nebraska, a towering cumulus tries to get its act together. Photo by Chris Kridler, chriskridler.com
8 MAY 2011 - Near O'Neill, Nebraska, here's a different view of the towering cumulus - a "turkey tower," because it couldn't break the capping inversion. Photo by Chris Kridler, chriskridler.com
8 MAY 2011 - Here's a wacky view of the tower, taken with a fisheye lens. Photo by Chris Kridler, chriskridler.com
8 MAY 2011 - Though the towering cu fell over, it still produced some mammatus. Photo by Chris Kridler, chriskridler.com
8 MAY 2011 - Near O'Neill, Nebraska, the failed storm attempt shrinks further near sunset. Photo by Chris Kridler, chriskridler.com
8 MAY 2011 - Bye, bye, cloudy. Photo by Chris Kridler, chriskridler.com
go to the main gallery page | go to storm chasers
go to reports from 2011, 2010, 2009, 2008, 2007, 2006, 2005, 2004, 2003, 2002, 2001, 2000, 1999, 1998, 1997