:: home

:: books

:: gallery

:: data

:: blog

:: kids

:: shop

:: bio

:: help

:: contact

:: ChrisKridler.com




advertisement: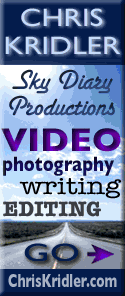 Words/images COPYRIGHT © 2016 by Chris Kridler. All rights reserved. Do not use Sky Diary photos on other Web sites. Personal use as computer wallpaper is permitted, but do not distribute photos. Write for information about purchasing video, photographs or articles. | Frequently asked questions

gallery: May 10, 2010
May 10, 2010: This was one of those absolutely nuts, off-the-hook storm days. The models had suggested it was coming for days, so every chaser and media person you can imagine was out to see the disaster in the making. Then the Storm Prediction Center issued a high risk of severe storms, including strong tornadoes. The big problem for chasing: They were expected to haul butt northeast at highway speeds, meaning you couldn't really chase the storms very well - you had to put yourself in front of them and hope. I started the day in Norman, Oklahoma, and picked Ponca City as a preliminary target. I ended up meeting up with Scott McPartland, Dave Lewison, Mark Robinson and Mark's crew of meteorology types in Blackwell, in north-central Oklahoma, and we went after a storm that went up near Woodward. (From home, Steve Sponsler and Cheryl Chang both said it split.) We caught it as it put down a brief but pretty tornado. Churning east, suddenly, instead of northeast, it then put down a multi-vortex tornado. I regret not getting more video or stopping for longer than a few seconds, but it literally chased about a hundred chase cars down Route 11 at about 55 mph. NOT a good situation. As it finally eased north of the road, the radar hook on it indicated a big (if unseen and rain-wrapped) tornado. After that, I did a lot of stair-stepping east of I-35, trying to catch another storm, but it was darn near impossible. I hope my next chase is a slow one. Many, many tornadoes occurred today, costing lives and causing damage. It was a tough day and a sad one. Share

Click on the thumbnails to see a larger image, or view these photos as a gallery. From the gallery pages, click the "up" arrow to return to this index.


| | | |
| --- | --- | --- |
| | | |
| The Cloud 9 Tours group packs up at the Guest Inn on Monday morning prior to its storm chase. | My new Element was ready to go on its first storm chase. | Dave fuels up in Blackwell, Oklahoma, before we head out after a storm near Woodward. |
| | | |
| A tornado touches down briefly southwest of Wakita, Oklahoma (that's the town destroyed in the movie "Twister"). | A multi-vortex tornado forms on the road just behind an enormous caravan of chasers and proceeds to chase us east at 55 mph. I got just a few seconds of video but decided discretion was the better part of valor. | When I finally got far enough east, I grabbed a frame of the radar showing the storm's classic hook, indicating a big tornado. If there, it was wrapped in rain. I'm the dot in the circle. |
| | | |
| I think there was a big, rain-wrapped tornado in this dark area, given the radar image. | I eventually let the line of storms pass me, though I kept an eye on them as they screamed away at highway speeds. Near Burbank, Oklahoma, this was a pretty view from the west of a storm's updraft. | The storms line up in eastern Oklahoma, as seen from I-35 at sunset. |
go to the main gallery page | go to storm chasers
go to reports from 2010, 2009, 2008, 2007, 2006, 2005, 2004, 2003, 2002, 2001, 2000, 1999, 1998, 1997