:: home

:: books

:: gallery

:: data

:: blog

:: kids

:: shop

:: bio

:: help

:: contact

:: ChrisKridler.com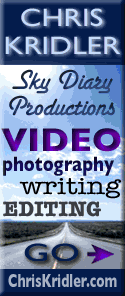 Words/images COPYRIGHT © 2018 by Chris Kridler. All rights reserved. Do not use Sky Diary photos on other Web sites. Personal use as computer wallpaper is permitted, but do not distribute photos. Write for information about purchasing video, photographs or articles. | Frequently asked questions

storm gallery: August 24, 2007
To see a larger version of a photo, click on its thumbnail image below. Then, to get back to this page, hit the "back" button on your browser.
The sky fired up over the Atlantic Ocean, offshore from Cocoa Beach, on August 24. A line of storms paralleled the coast and shot off lots of lightning. Cheryl Chang and I tried to catch some of it. Here are my photos, looking east over the Banana River toward Cocoa Beach. Digital images.
This was one of the first times I've seen lightning bolts distinctly reflected in the water. Though I've seen the light reflected before, in these photos, one actually can make out the lines of the bolts, probably because the water was so calm. Digital images.
Here's a crawler extending across the sky ... and another. Digital images.
Here's a last lightning shot. When the lightning ran out, I did my own light painting with a small flashlight in front of the camera. Digital images.
2007 reports and photos
go to the main gallery page | go to storm chasers
go to reports from 2006, 2005, 2004, 2003, 2002, 2001, 2000, 1999, 1998, 1997