:: home

:: books

:: gallery

:: data

:: blog

:: kids

:: shop

:: bio

:: help

:: contact

:: ChrisKridler.com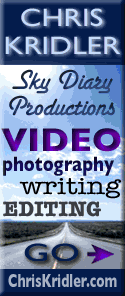 Words/images COPYRIGHT © 2018 by Chris Kridler. All rights reserved. Do not use Sky Diary photos on other Web sites. Personal use as computer wallpaper is permitted, but do not distribute photos. Write for information about purchasing video, photographs or articles. | Frequently asked questions

storm gallery: May 9, 2007
To see a larger version of a photo, just click on its thumbnail image below. Then, to get back to this page, hit the "back" button on your browser.
After the squall line of the day before, our expectations were low as we started May 9 in Abilene, Texas, once again. So we ate breakfast, then hung out in a parking lot where we had a wireless connection and kept an eye on the radar. A shower grew in intensity in front of the line, and we went for it - we being Dave Lewison and Scott McPartland; Dave and Kristy Patrick; and me. As we emerged from the cell, our group spotted a skinny funnel. Out ahead of it, we looked back and saw a young wall cloud. Digital images.
Northeast of the cute little town of Albany, we saw rotation in the storm and a wall cloud. Digital images.
The storm began to look linear, but there was some large-scale rotation in it. Then the National Weather Service issued a radar-indicated tornado warning on it, for our location. Digital images.
Here's a look at how the storm evolved south of Throckmorton, where a tornado was reported. We did see a funnel (I was driving, so I didn't get a shot of it) that appeared to point out the side of the wall cloud, and eventually, the tail cloud was quite ominous. But none of us saw what we'd call a tornado. (I'd love to see photographic evidence, if there is any.) Digital images.
I was separated from the other cars at this time. Independently, we chose to drive on a road that stairstepped north to get ahead of the storm. It turned from paved to horribly muddy, and I was grateful to get out of there. Then the storm began to look linear again. Digital images.
Whaddaya know? We called this The Storm That Wouldn't Die. After it seemed resolutely linear, it began to show circulation again. Check out the inflow tail. And then, at Wichita Falls, after tracking the storm for hours, we gave up on it and let it wash over us. I love this sign: "Tornado Alley Cycle Supply." Digital images.
2007 reports and photos
go to the main gallery page | go to storm chasers
go to reports from 2006, 2005, 2004, 2003, 2002, 2001, 2000, 1999, 1998, 1997