:: home

:: books

:: gallery

:: data

:: blog

:: kids

:: shop

:: bio

:: help

:: contact

:: ChrisKridler.com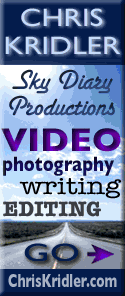 Words/images COPYRIGHT © 2018 by Chris Kridler. All rights reserved. Do not use Sky Diary photos on other Web sites. Personal use as computer wallpaper is permitted, but do not distribute photos. Write for information about purchasing video, photographs or articles. | Frequently asked questions

storm gallery: May 6, 2007
To see a larger version of a photo, just click on its thumbnail image below. Then, to get back to this page, hit the "back" button on your browser.
On May 6, I met up with Scott McPartland (shown here) and Dave Lewison, as we attempted to chase storms in western Oklahoma. They soon became linear, but they were interesting to watch. Digital images.
Dave shoots video, with Scott behind him, as the storm moved by. We went to the cemetery near Vici for a better look, and found Death. Really. Click and see. Digital images.
We ran into the folks from Cloud 9 Tours. Then we got a look at the storm as it blew over the town of Vici. It was very pretty, but dominated by outflow. Digital images.
Here are a couple more shots of the storm in Vici. Digital images.
Our whole motley crew pursued the storms near Elk City. Digital images.
We retired our chase and headed to Shamrock, Texas, for dinner, where this treasure of the old Route 66 has been spiffed up with neon and paint. It looked fabulous. Digital images.
I went after some lightning in the area, including a little bubbling behind the old Conoco/U Drop Inn cafe building in Shamrock. Digital images.
2007 reports and photos
go to the main gallery page | go to storm chasers
go to reports from 2006, 2005, 2004, 2003, 2002, 2001, 2000, 1999, 1998, 1997