:: home

:: books

:: gallery

:: data

:: blog

:: kids

:: shop

:: bio

:: help

:: contact

:: ChrisKridler.com




advertisement: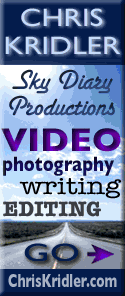 Words/images COPYRIGHT © 2016 by Chris Kridler. All rights reserved. Do not use Sky Diary photos on other Web sites. Personal use as computer wallpaper is permitted, but do not distribute photos. Write for information about purchasing video, photographs or articles. | Frequently asked questions

storm gallery: December 12, 2005
To see a larger version of a photo, just click on its thumbnail image below. Then, to get back to this page, hit the "back" button on your browser.
I rarely highlight a fair-weather day in the storm accounts, but the cirrus clouds and sun dogs (the rainbow-like light effect) on December 12 were spectacular in central Florida. Digital images.
The beautiful cirrus later gave way to a spectacular sunset. Digital images.
The sunset was full of rich jewel tones that set off the foliage. Digital images.
One of the photos looked so much like a painting,
I applied the PhotoShop palette knife filter to the image
to get this lovely effect. Enhanced digital image.





Diary from this year's chase | 2005 reports and photos





go to the main gallery page | go to storm chasers
go to reports from 2005, 2004, 2003, 2002, 2001, 2000, 1999, 1998, 1997