:: home

:: books

:: gallery

:: data

:: blog

:: kids

:: shop

:: bio

:: help

:: contact

:: ChrisKridler.com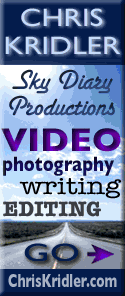 Words/images COPYRIGHT © 2018 by Chris Kridler. All rights reserved. Do not use Sky Diary photos on other Web sites. Personal use as computer wallpaper is permitted, but do not distribute photos. Write for information about purchasing video, photographs or articles. | Frequently asked questions

storm gallery: May 22-July 9, 2005
To see a larger version of a photo, just click on its thumbnail image below. Then, to get back to this page, hit the "back" button on your browser.
| | |
| --- | --- |
| A lovely sunset over Port Canaveral, Florida, reflects a calm day on May 22. Digital image. | The colors are vivid at Cocoa Beach on June 18 as storms move in over the turquoise water. Digital image. |
A fantastic shelf cloud moved over the Indian River Lagoon near Patrick Air Force Base in Florida on June 15. Digital images.
Though Hurricane Dennis was churning in the Gulf of Mexico, we still got outer bands in eastern Florida. This is a stitched-together panorama of several digital images as a band comes over Kennedy Space Center the evening of June 9.
Here's a still of the Vehicle Assembly Building at Kennedy Space Center as the outer band came over. To the right is a NOAA satellite image of the center of Dennis on July 9; click on it for the big picture.




Diary from this year's chase | 2005 reports and photos





go to the main gallery page | go to storm chasers
go to reports from 2005, 2004, 2003, 2002, 2001, 2000, 1999, 1998, 1997