:: home

:: books

:: gallery

:: data

:: blog

:: kids

:: shop

:: bio

:: help

:: contact

:: ChrisKridler.com




advertisement: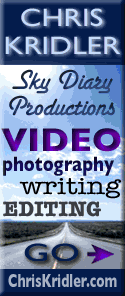 Words/images COPYRIGHT © 2016 by Chris Kridler. All rights reserved. Do not use Sky Diary photos on other Web sites. Personal use as computer wallpaper is permitted, but do not distribute photos. Write for information about purchasing video, photographs or articles. | Frequently asked questions

May 12, 2005, tornado and hail video:
Lone Star, Texas
This video shows a big tornado in the Texas Panhandle near Lone Star (or South Plains) on May 12, 2005, and the subsequent baseball- and softball-size hail that damaged our cars. The other car videotaped in this clip is owned by Scott McPartland, whose passengers were Dave Lewison and Peter Ventre. Also see the pictures from the chase and read the diary. (You can also get a T-shirt of this tornado.)
Copyright (c) 2005 by Chris Kridler.