:: home

:: books

:: gallery

:: data

:: blog

:: kids

:: shop

:: bio

:: help

:: contact

:: ChrisKridler.com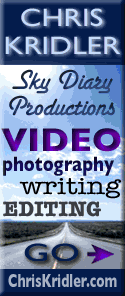 Words/images COPYRIGHT © 2018 by Chris Kridler. All rights reserved. Do not use Sky Diary photos on other Web sites. Personal use as computer wallpaper is permitted, but do not distribute photos. Write for information about purchasing video, photographs or articles. | Frequently asked questions

storm gallery: Aug. 31-Sept. 9, 2004

NOAA image of Frances after landfall on Sept. 5

HURRICANE FRANCES:
BEFORE, DURING AND AFTER

To see a larger version of a photo, just click on its thumbnail image below. Then, to get back to this page, hit the "back" button on your browser.
As Hurricane Frances approached the Florida coast, the National Hurricane Center's track often brought it right into Brevard County, my home. The center ended up making landfall farther south, but the storm's huge size and slow movement brought hours of strong, sometimes hurricane-force winds to Brevard. S.F. Travis Co. in Cocoa, Florida, saw a big business selling generators and other supplies. Meanwhile, people lined up at Home Depot in Merritt Island to buy plywood so they could board up their windows. The 7-11 nearby was ready with its "Bring it on!" sign. Digital and video images.
Surfers took advantage of crazy-high waves in Cocoa Beach on Sept. 3, before Frances made landfall. The wind was whipping more later, the morning of Sept. 5, as the hurricane slowly churned inland. The second and third photos show hurricane-force winds along the Rockledge waterfront, kicking up surf on the normally calm Indian River Lagoon. Digital and video images.
In the fierce winds, boats were bashed about and docks and dockhouses destroyed. Digital and video images.
Cocoa's City Hall lost roof panels from its outdoor overhang. Many ended up across the street at Murdock's restaurant and bar. The third picture shows more damage in Cocoa. Digital and video images.
Hurricane Frances knocked over lots of large trees. This one in Rockledge pulled up the sidewalk with it. Meanwhile, George Wilson's house in Cocoa was locked down and ready with a saucy message for Frances. The third image shows damage at a gas station in Cocoa Beach. Digital and video images.
Kennedy Space Center was blasted by the hurricane. The Vehicle Assembly Building, where space shuttle orbiters are stacked with their solid rocket boosters and external tank, lost 1.3 acres of wall panels. The shuttle tile and thermal blanket facility lost part of its roof. Digital and video images.
Locally, the most stunning damage was to this Baptist church in Cocoa Beach. The steeple plunged through the roof and into the pews inside, like a missile. At least the congregation had a sense of humor about it. Digital and video images.




Diary from this year's Plains chase | 2004 reports and photos





go to the main gallery page | go to storm chasers
go to reports from 2004, 2003, 2002, 2001, 2000, 1999, 1998, 1997