:: home

:: books

:: gallery

:: data

:: blog

:: kids

:: shop

:: bio

:: help

:: contact

:: ChrisKridler.com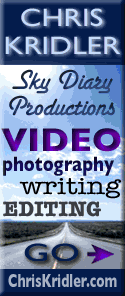 Words/images COPYRIGHT © 2018 by Chris Kridler. All rights reserved. Do not use Sky Diary photos on other Web sites. Personal use as computer wallpaper is permitted, but do not distribute photos. Write for information about purchasing video, photographs or articles. | Frequently asked questions

storm gallery: August 13-15, 2004

NOAA image of Charley just before landfall

HURRICANE CHARLEY

To see a larger version of a photo, just click on its thumbnail image below. Then, to get back to this page, hit the "back" button on your browser.
Hurricane Charley got a nasty start in Florida on Friday the 13th - August 13, 2004 - when a gust of wind from an outer band blew over a moving truck onto a Daewoo at the intersection of routes 528 and 520. The accident was a fatal one. Later that night, heavy rain and wind whipped through Brevard County, but it was just on the edge of the action... Images from video.
On assignment for my newspaper, I followed a trail of destruction through central Florida - Orlando and towns along Route 27 and Route 64 - dodging trees and power lines. In Punta Gorda, where the eye came ashore the mainland, the damage was much worse. Images from video.
Both trailers and buildings in Punta Gorda were devastated by the storm. Yet some structures, especially newer ones, survived fairly well. Images from video.
This apparently older building (two views) completely collapsed in Punta Gorda. Images from video.
A metal lightpost on Interstate 75 couldn't stand up to the winds. Photographer Craig Bailey is snapping its photo. Meanwhile, in hard-hit Arcadia, the Wagon Wheel Saloon tried to sell its "cool beer" while it was still cool, given there was no electricity. Images from video.




Diary from this year's chase | 2004 reports and photos





go to the main gallery page | go to storm chasers
go to reports from 2004, 2003, 2002, 2001, 2000, 1999, 1998, 1997