:: home

:: books

:: gallery

:: data

:: blog

:: kids

:: shop

:: bio

:: help

:: contact

:: ChrisKridler.com




advertisement: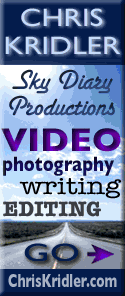 Words/images COPYRIGHT © 2016 by Chris Kridler. All rights reserved. Do not use Sky Diary photos on other Web sites. Personal use as computer wallpaper is permitted, but do not distribute photos. Write for information about purchasing video, photographs or articles. | Frequently asked questions

May 12, 2004, tornado video: Attica, Kansas
This video shows the tornadoes our chase group saw on May 12, 2004. The most dramatic one destroyed a house on the east side of Attica, Kansas. Dave Lewison and I were in one car. Scott McPartland and Pete Ventre were in the other. This is my footage, copyright 2004 by Chris Kridler.
For licensing, please contact me.
Diary from 2004 chase | 2004 reports and photos | Storm gallery