:: home

:: books

:: gallery

:: data

:: blog

:: kids

:: shop

:: bio

:: help

:: contact

:: ChrisKridler.com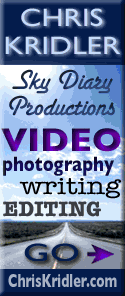 Words/images COPYRIGHT © 2018 by Chris Kridler. All rights reserved. Do not use Sky Diary photos on other Web sites. Personal use as computer wallpaper is permitted, but do not distribute photos. Write for information about purchasing video, photographs or articles. | Frequently asked questions

storm gallery: June 4, 2002
To see a larger version of a photo, just click on its thumbnail image below. Then, to get back to this page, hit the "back" button on your browser.
On June 4, 2002, I was chasing with Scott Blair and Jason Politte. We got separated north of Lubbock, Texas. I got in front of this tornado-warned storm, which for a while had a beautiful, large mesocyclone, and moved east with it. These were shot around 3:20 p.m. Images from video.
Circulation was so strong on the meso that when I saw this whirling dust, I was sure I was seeing a tornado. But I was also seeing the first sign of outflow. This was apparently a gustnado forming as the outflow was just beginning. Images from video.
The intense interface of winds at the surface produced a frenzy of gustnadoes. First two were on the ground, then there were multiple circulations at once. I wondered if a multivortex tornado was trying to form, but it seems they were merely gustnadoes. Images from video.
Here are images of three more good gustnadoes that formed as the storm died. Images from video.
| | |
| --- | --- |
| Even at the south end of the line, the storms we saw near Lubbock had trouble holding themselves together, though this one formed a so-so wall cloud. Image from video. | To the north, another storm formed a strange, rotating outflow feature. It's possible the storm was splitting, because to the north of this, a real supercell began to form. Image from video. |
| | |
| --- | --- |
| And here it is! Where did this incredible structure come from? With Jason and Scott, I blasted north toward Floydada. Image from video. | Hail began wrapping around the meso - big hail - it was just like the hail barrage we survived last year. I bailed and got under the tin roof of a cotton gin, where I filmed hailstones up to golf-ball-size hitting deep puddles. Image from video. |
| | |
| --- | --- |
| On the move again, I saw some intense lightning. Image from video. | I also saw the University of Massachusetts Doppler on Wheels on my way to meeting up with Scott and Jason for a last look at a rainbow and a meal in Matador. Image from video. |
The next morning, after we'd flirted with hail the night before and Scott drove right into some (again), I checked out the additional cracks in Scott's windshield. Image from video.
Links to 2002 chase reports:
go to the main gallery page | go to storm chasers
go to reports from 2002, 2001, 2000, 1999, 1998, 1997