:: home

:: books

:: gallery

:: data

:: blog

:: kids

:: shop

:: bio

:: help

:: contact

:: ChrisKridler.com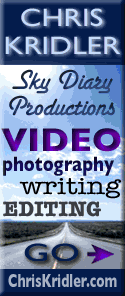 Words/images COPYRIGHT © 2018 by Chris Kridler. All rights reserved. Do not use Sky Diary photos on other Web sites. Personal use as computer wallpaper is permitted, but do not distribute photos. Write for information about purchasing video, photographs or articles. | Frequently asked questions

storm gallery: August 17-23, 2001
To see a larger version of a photo, just click on its thumbnail image below. Then, to get back to this page, hit the "back" button on your browser.
| | |
| --- | --- |
| South of Fellsmere, Florida, on August 17, 2001, a gust front briefly attains a laminar appearance over the orange groves. Image from slide. | By the time I got to Lake Okeechobee, the storms were dying. Alas, this is not a spinning vortex, only a spun spider web on a dock railing. Image from slide. |
| | |
| --- | --- |
| August 18 looked promising, as storm anvils lined up on the sea breeze collision in central Florida. This nascent storm formed to the east of the line. Image from video. | Just west of Christmas, the storm became electrically active, striking radio towers, trees and the ground. Here's a series of images. Images from video. |
Here are more bolts, grabbed from video. The second in this group is a composite of two frames that occurred in quick succession. Click for full-frame images. Images from video.
| | |
| --- | --- |
| The storm had a heavy rain core. Image from video. | Then it began to form a gust front, with a budding shelf cloud. Image from video. |
Just east of the St. John's River on Route 50, the gust front was forming beautiful layers. The third image shows the belly of the beast, after the passage of the gust front. Images from slides.
| | |
| --- | --- |
| The storm blew through Titusville. This was shot from the causeway east of town. Image from video. | The storm managed to kick up surf on the Indian River as it whooshed through. Image from video. |
| | |
| --- | --- |
| Here's another nice Florida sunset, seen from north Melbourne on Aug. 22. Image from slide. | After midnight, distant lightning storms look like glowing ghosts beyond the lights of Port Canaveral. Image from slide. |
Links to 2001 chase reports:
go to the main gallery page | go to storm chasers
go to reports from 2001, 2000, 1999, 1998, 1997