:: home

:: books

:: gallery

:: data

:: blog

:: kids

:: shop

:: bio

:: help

:: contact

:: ChrisKridler.com




advertisement: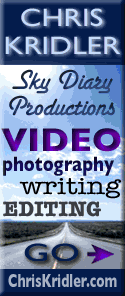 Words/images COPYRIGHT © 2016 by Chris Kridler. All rights reserved. Do not use Sky Diary photos on other Web sites. Personal use as computer wallpaper is permitted, but do not distribute photos. Write for information about purchasing video, photographs or articles. | Frequently asked questions

storm gallery: May 23-27, 2001
To see a larger version of a photo, just click on its thumbnail image below. Then, to get back to this page, hit the "back" button on your browser.
Also May 23, Dave Lewison and I caught some dust devils in west Texas. Images from video.




| | | |
| --- | --- | --- |
| No storms were on this west Texas road, but the west beckoned. Image from slide. | And there were various grasshopper-type bugs all over the highway. Bugs were big in Texas this spring, especially moths and icky black ones. Image from slide. | In eastern New Mexico, the sun set behind the oil fields. Image from slide. |
| | |
| --- | --- |
| May 24, we were coming back from sightseeing in New Mexico and tried to catch the storms south of San Angelo, Texas. It was too late in the day to get on the south side of them, but they were pretty. Image from video. | The line of storms formed pretty mammatus clouds above the blooming landscape. Image from slide. |
The sunset May 24 was spectacular, even on the "wrong" side of the storms. Images from slides.
| | |
| --- | --- |
| May 25 produced a pure, no-storm bust near Junction, Texas. Here, Bill Hark takes a shot of us waiting in vain for storms to fire. Image from video. | Bill continues his photo quest and stalks butterflies. Image from slide. |
| | |
| --- | --- |
| May 26 was much more promising, a good dryline chase day in the Texas panhandle. When the first two storms went up, Dave, Bill and I headed toward a storm near Matador, Texas. Image from video. | The Cloud 9 Tours group happened along and we all watched the pretty storm evolve. Soon, however, storms were going up all over the place. Image from video. |
| | |
| --- | --- |
| The storm we first watched formed some decent mammatus clouds. Image from slide. | An odd little cumulus cloud with a flat base formed among the storms. Image from slide. |
| | |
| --- | --- |
| Another nice storm base spit out some impressive bolts. Image from slide. | A mobile radar heads toward a hail core. We decided to sample it, too, thinking it wouldn't be too bad. They hailstones were probably quarter-size and smaller. Image from slide. |
The core was more intense than I thought. When we got out the other side, the view from the west was fantastic - a big, cascading, sunlit, white hail core with a hailbow. Images from slides.
The day ended with a beautiful display of mammatus. Image from slide.
| | |
| --- | --- |
| Bill, Dave, Steve Sponsler and I headed into Kansas on May 27 in search of storms. There were storms, all right. We stopped in Sublette to check radar and saw everything evolving into a line. We headed a bit north and saw the gust front approaching. Image from slide. | Huge amounts of dust were being kicked up as the gust front pressed south. A radar dome is in the foreground. Image from slide. |
| | |
| --- | --- |
| The amount of dust being kicked up made the storm into a haboob. Image from slide. | The gust front spun up many gustnadoes. The dark area in this image is one of them. Dave and Bill capture it on film. Image from slide. |
| | |
| --- | --- |
| We stopped at the truck stop where we'd previously plugged in for data and let the gust front overtake us. Dave was on the phone to Jim Leonard when the first winds hit. Image from video. | The hurricane-force winds blew for several minutes and knocked a couple of big trash barrels over - fortunately we'd moved the car just before one slammed into the place we'd been parked. Image from video. |
| | |
| --- | --- |
| On our way south in the wake of the dust storm, we saw some damage, including this knocked-over pole. Image from video. | On the way to Woodward, Oklahoma, we saw this truck, which had been knocked over by the winds. We saw plenty of tree debris, too. Woodward also sustained a lot of damage. Image from video. |
Links to 2001 chase reports:
go to the main gallery page | go to storm chasers
go to reports from 2001, 2000, 1999, 1998, 1997