:: home

:: books

:: gallery

:: data

:: blog

:: kids

:: shop

:: bio

:: help

:: contact

:: ChrisKridler.com




advertisement: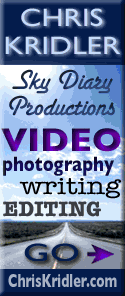 Words/images COPYRIGHT © 2016 by Chris Kridler. All rights reserved. Do not use Sky Diary photos on other Web sites. Personal use as computer wallpaper is permitted, but do not distribute photos. Write for information about purchasing video, photographs or articles. | Frequently asked questions

storm gallery: February 14-March 31, 2001
To see a larger version of a photo, just click on its thumbnail image below. Then, to get back to this page, hit the "back" button on your browser.
| | |
| --- | --- |
| A roll of fog washes around the base of the Vehicle Assembly Building at Kennedy Space Center on February 14. Image from slide. | The same morning, patchy fog shrouds the enormous VAB in a cottony cloak of moisture. Image from slide. |
| | |
| --- | --- |
| A shelf cloud briefly gets organized on a rare rainy day this winter in Florida, February 18, at the Merritt Island National Wildlife Refuge. Image from slide. | At the end of a rare rainy day on the Space Coast, the sky cleared in the east just long enough to afford a brilliant sunset March 4. Image from slide. |
| | |
| --- | --- |
| The sunset shines a brilliant orange right on my street in Satellite Beach. Image from slide. | Here's a shot of the sky to the east during the same sunset March 4. Image from slide. |
In the absence of real weather, chasers on the Space Coast have to content themselves with blue-sky distractions. Here, the Air Force Thunderbirds perform above Patrick Air Force Base on March 24, 2001. Just how close ARE these guys? Images from slides.
On March 29, a line of severe or near-severe storms marched into Brevard County, Florida. Here, swirling dust is kicked up in Cocoa; the storm swoops in; and rain pushes out over the Indian River Lagoon, taking along orange smoke from a nearby fire.
| | |
| --- | --- |
| A cloud tower builds by Space Coast Stadium in the Viera area of Melbourne, Florida, on March 31, 2001. Image from slide. | A fast moving severe storm on the same day, March 31, approaches the Indian River Lagoon. Image from slide. |
Links to 2001 chase reports:
go to the main gallery page | go to storm chasers
go to reports from 2001, 2000, 1999, 1998, 1997