:: home

:: books

:: gallery

:: data

:: blog

:: kids

:: shop

:: bio

:: help

:: contact

:: ChrisKridler.com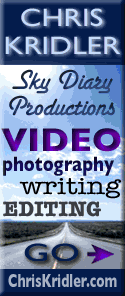 Words/images COPYRIGHT © 2018 by Chris Kridler. All rights reserved. Do not use Sky Diary photos on other Web sites. Personal use as computer wallpaper is permitted, but do not distribute photos. Write for information about purchasing video, photographs or articles. | Frequently asked questions

storm gallery: May 12-13, 2000
To see a larger version of a photo, just click on its thumbnail image below. Then, to get back to this page, hit the "back" button on your browser. Photos noted as taken from video were shot with a digital video camera.
Not a chase -- a wild goose chase! A rather late start put Dave Lewison and I in Illinois in late afternoon on May 12, 2000, after storms had already started to go up. The cap proved to be no problem at all as a line of storms exploded. The problem for us: Despite multiple tornado warnings, it was impossible to see anything anyway due to haze and precipitation. Image from video.
The lightning was the one fabulous thing we took away from this chase.
Here a bolt branches and then completes its strokes in a bold, bright channel. Images from video.
In Mattoon, Illinois, a tornado siren blared as we got heavy horizontal rain from the southeast. Again, we saw nothing of significance in the haze, rain and clutter, so we paused to watch the storm roll through. Here some marble-size hail streaks in front of the camera. Image from video.
| | |
| --- | --- |
| The next day, happy to be back in Oklahoma, we stoppped for a fair-weather sunset. The clouds looked a little like mammatus, but there were no storms in sight. Image from print. | Here's another, broader view of the gorgeous sky. Image from slide. |
Links to 2000 chase images:


go to the main gallery page | go to storm chasers
go to reports from 2001, 2000, 1999, 1998, 1997