:: home

:: books

:: gallery

:: data

:: blog

:: kids

:: shop

:: bio

:: help

:: contact

:: ChrisKridler.com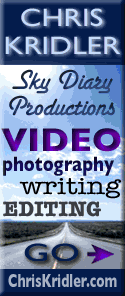 Words/images COPYRIGHT © 2018 by Chris Kridler. All rights reserved. Do not use Sky Diary photos on other Web sites. Personal use as computer wallpaper is permitted, but do not distribute photos. Write for information about purchasing video, photographs or articles. | Frequently asked questions

storm gallery: May 9-11, 2000
To see a larger version of a photo, just click on its thumbnail image below. Then, to get back to this page, hit the "back" button on your browser. Photos noted as taken from video were shot with a digital video camera.
| | |
| --- | --- |
| Dave Lewison and I began our Plains chase by driving around in circles in Oklahoma on May 9, 2000, hoping in vain for storms to fire in the warm sector. Image from slide. | With not much to chase on May 10, we decided to find a nice sunset cliche: An oil well with the sun dropping behind it. Pretty! Image from slide. |
Our target on May 11, 2000, was northeast Iowa, where winds would back (from the East) as the low advanced, thus providing strong shear; and where the warm and cold fronts and the low offered a focal point for convection. Dave Lewison (pictured) and I watched the towers go up and collapse for about an hour. Mark Aubin met us on a gravel farm road outside Grundy Center, about the time one of the towers really exploded.
| | |
| --- | --- |
| We headed north, then east. Before long the storm was kicking up this dust under what looked like a wall cloud (6:47 p.m.). Tornado? RFD? Image from video. | More dust, in another view, this one taken with a still camera. As you can see, it quickly became more diffuse. Image from slide. |
| | |
| --- | --- |
| A persistently rotating wall cloud formed on the rapidly growing cell in no time at all. (6:54 p.m.) Image from video. | The wall cloud is getting bulkier, foreshadowing a tornado and our own navigational misfortunes as we get near the town of Cedar Falls. (6:55 p.m.) Image from slide. |
| | |
| --- | --- |
| Rotation is wildly evident at this time, and there's action behind this promising area that we simply can't see. We missed the big twisters at the start as we approached the storm from the south, though chasers who punched in from the north saw them. (About 6:59 p.m.) Image from slide. | More development: Could that be a tornado forming back in there? Some chasers say the wedge occurred about 7:15 p.m.; this photo was shot just after 7 p.m. Unfortunately, at this point, we found ourselves in Cedar Falls/Waterloo traffic and ended up circumnavigating the town and getting away from the action for several vital minutes. Image from print. |
East of Waterloo, we apparently witnessed the beginning of another tornado, which Don Lloyd's chase report notes began with swirling dust about 7:31 p.m., the time we witnessed this distant dust. We were probably seeing the same thing. It evolved into a stovepipe, he says, but this tornado was obscured from our perspective. The third image shows a new wall cloud in the foreground (7:36 p.m.), while all the while the big tornado we can't see grazes Dunkerton, to the north. Images from video.
| | |
| --- | --- |
| Pow! The wall cloud spits out a CG. (7:37 p.m.) We heard the tornado warning but had no idea what we were missing, since this wall cloud looked pretty good to us. A few minutes later, we could see what looked like pointy wall cloud to the west, as well - perhaps what remained of the tornado as the storm's and our position changed. Image from video. | Backlit by a flash of lightning is a tornado that is mostly digging up dust. (7:58 p.m.) At this point it looked as if as many as three mesos were active. The storm had amazing structure. Image from video. |
| | |
| --- | --- |
| The dust-bowl twister appears under the meso of the storm. (8:04 p.m.) Image from video. | The rotating beast advances east. (8:07 p.m.) Its size was made apparent when a helicopter from a local TV station (not shown here) flew near the storm and appeared to be a mere speck against its mass. Image from video. |
| | |
| --- | --- |
| As the storm moved east, its huge, rotating wall cloud -- which appears to be producing a tornado on the ground -- was orbited by a white satellite funnel. (8:10 p.m.) Look closely at this video grab to see it passing in front of the main funnel. | The storm put down another quick tornado just to the east of the main multivortex tornado. (8:11 p.m.) Image from video. |
| | |
| --- | --- |
| And one more time -- a new, dusty tornado chewed up a field for a couple of minutes. (8:20 p.m.) Image from video. | As the storm proceeded east, it produced curtains of rising dust. (8:21 p.m.) We caught some beautiful light. Image from video. |
| | |
| --- | --- |
| We tried to keep up with the supercell for a while. Lightning was constant and intense, as seen on this video grab. | This cloud formation hung from the leading edge of the storm and, lit by lightning, was accompanied by an eerie tornado siren in Manchester. It may have looked like a tornado, but it didn't seem to be touching the ground. (9:36 p.m.) Image from video. |
Links to 2000 chase images:


go to the main gallery page | go to storm chasers
go to reports from 2001, 2000, 1999, 1998, 1997