:: home

:: books

:: gallery

:: data

:: blog

:: kids

:: shop

:: bio

:: help

:: contact

:: ChrisKridler.com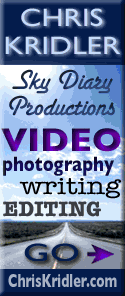 Words/images COPYRIGHT © 2018 by Chris Kridler. All rights reserved. Do not use Sky Diary photos on other Web sites. Personal use as computer wallpaper is permitted, but do not distribute photos. Write for information about purchasing video, photographs or articles. | Frequently asked questions

dispatches: November 2010
back | archive | current Share

7 NOVEMBER 2010


The 12 May 2005 Texas tornado that preceded the hail assault



TV reality: It's always amusing seeing how documentaries parse storm events in order to pump up the "extreme" factor, often to the detriment of truth. "World's Worst Weather" was on Travel Channel tonight. I was one of the many chasers interviewed. The good news: I was pretty happy with how my weather footage looked. The bad news: They fictionalized the hail-damage story. They showed video I'd shot of my friend Scott McPartland's car being damaged by hail near South Plains, Texas, in 2005, then showed him and Dave Lewison making their hail shields, and then showed a purported storm in Colorado in which their car survived fine, while Chris Kridler's car (oh yeah, my car!) suddenly drove by and was badly damaged! Except I wasn't in Colorado for said storm. My car was damaged in South Plains at the same time as Scott's. And for goodness' sake, can no one pronounce my name? My hubby and I had a good laugh over that, because it wasn't the first time. (It's pronounced "CRY-dler," by the way.) We also hooted at the gratuitous shot of a woman taking a shower - because the duration of a shower is about how long most tornadoes last.

One thing the uninitiated should be aware of when watching rapid-edit clip shows like this is that a lot of times, you are not necessarily seeing the location or tornado that is being described in the narration. Clips may be used willy-nilly to tell a story. It's storm-show truthiness.