:: home

:: books

:: gallery

:: data

:: blog

:: kids

:: shop

:: bio

:: help

:: contact

:: ChrisKridler.com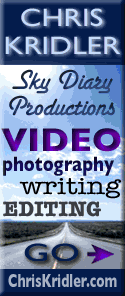 Words/images COPYRIGHT © 2018 by Chris Kridler. All rights reserved. Do not use Sky Diary photos on other Web sites. Personal use as computer wallpaper is permitted, but do not distribute photos. Write for information about purchasing video, photographs or articles. | Frequently asked questions

dispatches: July 2006
back | archive | current

27 JULY 2006
Rolling, spiraling: The last time I blogged, I was frazzled, in the middle of covering a shuttle mission.

Atlantis on the move


Here comes another one. And if the schedule holds up, there will be a lot more, a lot faster. I'm just trying to get a few minutes to sit on the new deck and watch the critters in the trees. We've been having fun here at home putting together a spiral staircase, which is a kind of crazy 3-D puzzle made of galvanized steel. Get one thing wrong, and you have to undo a half-dozen things to fix it, or rent electric screwdrivers that fit into tiny spaces. If (when) a hurricane comes, we predict the deck and staircase will outlast the house. And when global warming puts Florida gradually under water, we'll have a few extra days to enjoy our newly waterfront property from the second floor.

8 JULY 2006
Emotional: Do you feel weepier on some days than others? If you're a guy, you probably have no idea what I'm talking about. Women, try to deny it. Maybe you're one of the lucky ones. As feminist as I am, I have to admit that some days I just want to cry more than other days. This was one of those days. I think part of it has to do with working a zillion hours in the past few weeks and being away from home while on the job day and night, weekends, etc.

Little Gracie always makes friends.

I was talking to my husband tonight on the phone, and since I missed our little dog, I asked him to put me on speakerphone. I only got to call her name once or twice and she started running around the house looking for me. She was really upset. I didn't mean to upset her. So I succeeded in upsetting Gracie and upsetting myself, thinking of that sweet little dog running around looking for me in vain. If you don't have a dog, I'm not sure you can understand what it's like. You laugh when dog owners say their pets are their children. I used to scoff. But not only are their behaviors much like children (I can't count the times someone told me a baby story and I was immediately struck by how well the child's behavior compared to my dog's), but they are in fact more innocent, more loyal, more completely direct in everything they want and do. They want to eat, play, go outside and be with you, period. We could learn a lot from a dog. For instance, working a zillion hours does not buy you happiness (especially when you aren't paid for those hours, ha ha). But an hour with a dog will ... really, an hour doing anything pursuant to your bliss, to fulfilling your heart, is worth so much more than whatever crazy obligations we think we must meet. Then why is it so hard to walk away?

I scraped together a couple of hours and saw "The Devil Wears Prada" tonight, and though it didn't quite answer that question, it certainly raised it. I liked the film a lot. Haven't read the book, though I usually try to do that first, but the film was smart, fun and filled with good performances and far too many good-looking people. I do understand it was about fashionistas, but if Anne Hathaway goes into a speech about how she's "not skinny," what kind of room does that leave the rest of us? Good lord, a forklift must have to carry me to work every day. I guess the important thing was that she looked really good in clothes, though the story tried to convince us otherwise.

Anyway, being in the theater for the first time in a long stretch of my Netflix life, I was pleased to hear no cell phones go off, and I was sorry to be subjected to 20 minutes of trailers. Which brings us back to weepiness. There was a trailer for "World Trade Center," and you know what that's about. I teared up watching it, not because the clips or editing or music were particularly effective, but because I will never get over how horrible human beings can be to other human beings. And really, I don't think we need to relive the tragedy. At least, I don't want to. Maybe a better tribute would be living a better life, bombing fewer people and thinking a little more about consequences, but all I have control over is my own little back yard, and maybe not even that.



6 JULY 2006


Discovery shuttle launch, 4 July 2006


Sleep? What sleep? I'm in Houston, covering a shuttle mission. It's kind of weird having to travel from Florida to Houston to cover something happening more than 200 miles up anyway. I mean, I'm not really any closer. But mission controllers and flight directors are here, so I am, too, along with the rest of the space press corps. It's a small group and probably a sleep-deprived one. The astronauts stick to their own schedule, and as the mission wears on, it's mostly in the middle of the night. My night. I want 24 hours off just so I can sleep. Maybe I'll write more later. Right now, I'm about to lapse into unconsciousness.

Side note from my cobwebby mind: I'm doing a lot of Web videos for my newspaper. It's kind of fun, but I'm surrounded by so many electronics, I should probably be wearing a tin foil hat.



3 JULY 2006



Kissy, kissy: Two pileated woodpeckers take a break from destroying a rotten branch and go beak-to-beak behind our house.

2 JULY 2006
Storms vs. shuttle: It's not exactly the best time of year to be launching a space shuttle, nor the best time of day, but NASA tried again and scrubbed for storms today. Seeing as how I've worked about two weeks' worth of hours in the past seven days straight, since our newspaper is doing heavy coverage of the event, I'm not altogether sorry to get a rest day before the next attempt on July 4 and the subsequent scurry to Houston. I know, it's a holiday, but when you work the space beat, you come to accept that holidays, weekends and other "normal" benefits of life are no longer relevant... at least till you move on to covering something like puppies.

Summer storm, Merritt Island, 2 July 2006. Click for big version.

And I do love puppies. I also love storms, ironically enough, hence the photo of the gust front pushing north on Merritt Island, Florida, toward Kennedy Space Center. It was a beautiful storm, if inconvenient. It occurred after the scrub but was emblematic of the unsettled conditions today. Cost of canceled shuttle launch on a Sunday: $1 million. Cost of a gorgeous summer storm: Priceless.