:: home

:: books

:: gallery

:: data

:: blog

:: kids

:: shop

:: bio

:: help

:: contact

:: ChrisKridler.com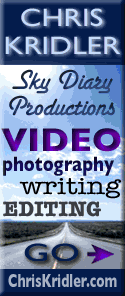 Words/images COPYRIGHT © 2018 by Chris Kridler. All rights reserved. Do not use Sky Diary photos on other Web sites. Personal use as computer wallpaper is permitted, but do not distribute photos. Write for information about purchasing video, photographs or articles. | Frequently asked questions

dispatches: April 2006
back | archive | current

27 APRIL 2006


No rain, just fire, 27 April 2006


Prelude to the chase: I never thought Florida could feel so much like the desert southwest. A few sparse showers today missed us, and a fire raged in Port St. John, not far north. The yard is nothing but dry dirt and weeds. My flowers and other plants are marginally happy only because of dedicated watering. I hope they don't die under foster care while I'm gone. I'm planning to head to the Plains in about a week for the annual storm-chasing jaunt, at least if the weather pattern shapes up. I'm a bit worried about it tonight, but the models are less than reliable this far out. I'm in gear-up mode right now, trying to get my cameras and other goodies ready for the trip. I have a new HDV camera to accompany my older DV camera, so I'll be shooting double-barreled video this year. Half the fun is figuring out what gadgets work with what, making sure my laptop can import the video, ordering a neat little tripod adapter that allows me to remove the bottom-loading tapes without trouble. I haven't received it yet, but it looks pretty cool. The only bad thing: gas prices. Please, don't drill in the Arctic National Wildlife Refuge. Try investing in research into new energy sources instead. But wait, that might mean politicians would have to act! Intelligently!
OK, enough ranting.
By the way, for my newspaper column, I'm trying out a spam-blocking service. To give it a true test, I'm putting the e-mail address here to see if spammers pick it up: ckridler@mail-block.com. But please don't use it; instead send correspondence to my usual address.

9 APRIL 2006


Chasing lights, 9 April 2006


Chasing ain't getting: I tried a half-hearted storm chase after midnight, aiming for some good-looking lightning to my north. I estimated I'd run into a cluster of east-moving storms as I drove up I-95. Around Oak Hill, where I pulled off, visibility was rotten, and I got no decent lightning, but I was doused with the first rain I've seen in weeks. At least the yard got watered. Florida's been awfully desert-like.
Still, people have spring fever. Daylight Savings Time helps. My dog and I went to a wacky little event in Cocoa Village today that involved many dogs in costume. Gracie wore only a T-shirt, but I think my favorite was a grouchy pooch dressed up in bunny ears and ducky slippers. Poor thing!