:: home

:: books

:: gallery

:: data

:: blog

:: kids

:: shop

:: bio

:: help

:: contact

:: ChrisKridler.com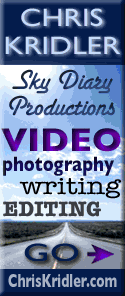 Words/images COPYRIGHT © 2019 by Chris Kridler. All rights reserved. Do not use Sky Diary photos on other Web sites. Personal use as computer wallpaper is permitted, but do not distribute photos. Write for information about purchasing video, photographs or articles. | Frequently asked questions

Storm Chasing 2019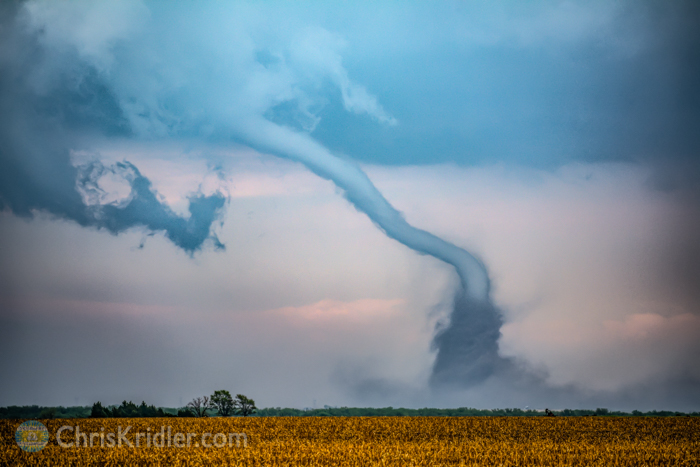 I'm starting to post reports from Tornado Alley on my blog. I saw this tornado with friends on May 17, 2019, near Culbertson and McCook, Nebraska. See the report, and keep track of the 2019 chases here. Follow me here and on Twitter and on my Facebook Funnel Vision page for the latest.



DISPATCHES


Go to blog and subscribe
---
Some of my favorite chases
Chase 2016: Incredible 20th year

My Tornado Alley chase was incredible in 2016, with many tornadoes and photogenic storms. See the 2016 reports here.




2014: Attica, Kansas, tornadoes

May 12, 2004, Attica, Kansas, tornadoes: report/photos


Subscribe on YouTube: Sky Diary channel
---
Storm-chasing adventures

Check out the Storm Seekers Series for storm-chasing adventures with action, drama, humor and romance. Learn more
Storm photography
Check out tornado, lightning and other storm photography. View photos
Storm Stuff Store
Visit the shop for T-shirts and other apparel, stickers, mugs and more featuring storm chasing and weather weenie designs. Shop now




Cocoa Beach weather



Portrait of Chris and Gracie by Lorene Prell of the Lorene Prell Studio

Thanks for dropping in! My name is Chris Kridler. I'm a writer, photographer, editor, and author of the novels Funnel Vision, Tornado Pinball and Zap Bang. I live on the edge of Florida's Lightning Alley, and I love to chase the mighty thunderstorms of the Plains. For more info and credits, see my bio.