:: home

:: books

:: gallery

:: data

:: blog

:: kids

:: shop

:: bio

:: help

:: contact

:: ChrisKridler.com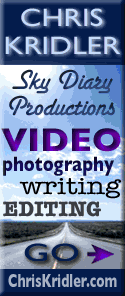 Words/images COPYRIGHT © 2020 by Chris Kridler. All rights reserved. Do not use Sky Diary photos on other Web sites. Personal use as computer wallpaper is permitted, but do not distribute photos. Write for information about purchasing video, photographs or articles. | Frequently asked questions

a tornado quilt
In the off-season, chasers watch lots of tornado videos and update their equipment, and sometimes ... they make quilts! OK, not very often. But after several months of work, I finished a quilt with a tornado theme that I've named "Oklahoma Spring."
| | |
| --- | --- |
| Once I decided on the theme and selected fabrics that I thought would work for the fields, sky and tornado, I had to lay out the 2,500 2" squares on the floor, then sew them together row by row. | When the top was together, I sewed on borders and pinned the top to the batting (the fluffy layer in between) and the backing. I then attached the layers with big basting stitches and began the painstaking process of hand-quilting the monster. I'm estimating that I used about 300 meters' worth of thread (one and a half spools). |
Here's the final result. Of course, these things never look as detailed and colorful on the Internet as they do in real life. But it was a pleasure ... and a relief ... to finish the quilt.
Words, images and quilt design copyright 2001
and may not be reproduced in any format without express permission