:: home

:: books

:: gallery

:: data

:: blog

:: kids

:: shop

:: bio

:: help

:: contact

:: ChrisKridler.com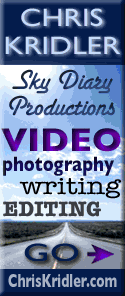 Words/images COPYRIGHT © 2021 by Chris Kridler. All rights reserved. Do not use Sky Diary photos on other Web sites. Personal use as computer wallpaper is permitted, but do not distribute photos. Write for information about purchasing video, photographs or articles. | Frequently asked questions

storm gallery: June 1-5, 1999
To see a larger version of a photo, just click on its thumbnail image below. Then, to get back to this page, hit the "back" button on your browser. Photos noted as taken from video were shot with a digital video camera.
| | |
| --- | --- |
| June 1: Another day when tornadoes were within range, but I wasn't there. However, I did get on a storm with a tornado warning on it that moved from northern Texas into eastern Oklahoma, and I saw golf-ball-size hail and a double rainbow. But the show wasn't over... | As I was pursuing the storm in southeast Oklahoma on June 1, I suspected that a funnel was forming. I was trying to drive past some trees and get a better look, but the feature disappeared after I exited the highway. However, upon reviewing the video, I'm convinced it was a funnel (circled; click for bigger view). Another chaser later told me that he had seen it too. Photo from video. |
| | |
| --- | --- |
| June 2 brought horrible visibility and a line of severe storms sweeping through the Texas panhandle. Here, lightning hits Dumas, Texas, as I drive north. Photo from video. | At least, after the storms went through on June 2, I was treated to another dramatic sunset. Photo from video. |
| | |
| --- | --- |
| BUST! June 3 had me driving from Liberal, Kansas, to Dalhart, Texas, and back up to Liberal while I watched a storm or two collapse. In southwest Kansas, even the clouds were hiding, so I decided to take the ultimate cliched photo of a windmill at sunset. | On June 4 I ended up in a caravan in southwest Nebraska with Don Lloyd, Gerry Singer, Kinney Adams and Allan Rosenberg. We saw storms, but this was the most vorticity I saw all day. |
June 5, Dave Lewison and I put off our return to the East Coast to chase the high risk in Nebraska. We were briefly lured by a storm that died in northeast Nebraska, then decided to chase a storm to our southwest, especially after chaser Tim Samaras consulted his satellite dish and told us it was the only show in town. Here's a little of its impressive structure. Photo from video.
The June 5 storm really got its act together as it approached Bassett, Nebraska. In the first photo, a huge mesocyclone dominates the frame; click to see the big view and you'll notice the funnel forming in the lower left corner. In the next two pictures, the tornado really gains strength. In the fourth, it's weakening but still has a very noticeable debris cloud at its base -- as we are fleeing east. Photos from video.
Just east of Bassett on June 5, another tornado forms out of a new meso north of the road. Here you see some of its stages. Photos from video.
| | |
| --- | --- |
| The June 5 storm tries to get its act together with another wall cloud. The storm was screaming north at probably 40 or 50 miles per hour. Photo from video. | The DOW -- Doppler on Wheels -- zooms by us north of Bassett, Nebraska, on June 5. Photo from video. |
Go to more chase accounts and photos:

May 9-16: Picturesque storms and three tornadoes in one day in Kansas

May 20-24: A tornado in Texas, funnels, a gorgeous gust front, and blistering lightning

May 25-31: Supercells, a tornado (or was it a tricky lowering?), a spectacular twilight, and some beautiful cells in Kansas

June 1-5: A double rainbow in Oklahoma, a funnel, a bust, and two wild Nebraska tornadoes

July 22-August 14: A few lightning storms in the middle of a drought in Maryland

August 21-25: Dust devils and daytime convection during the Arizona monsoon

November: Storms, a rainbow and fabulous sunsets on Florida's Space Coast


go to the main gallery page | go to storm chasers
go to reports from 2001, 2000, 1999, 1998, 1997