:: home

:: books

:: gallery

:: data

:: blog

:: kids

:: shop

:: bio

:: help

:: contact

:: ChrisKridler.com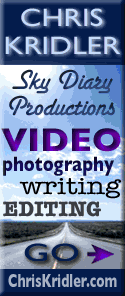 Words/images COPYRIGHT © 2020 by Chris Kridler. All rights reserved. Do not use Sky Diary photos on other Web sites. Personal use as computer wallpaper is permitted, but do not distribute photos. Write for information about purchasing video, photographs or articles. | Frequently asked questions

storm gallery: 1998
To see a larger version of a photo, just click on its thumbnail image below. Then, to get back to this page, hit the "back" button on your browser. To read more about my 1998 chase experiences, you can check out some e-mail bulletins I sent at the time by clicking here.
| | |
| --- | --- |
| When I was chasing on my own in Nebraska on May 11, 1998, I came across this dying storm, beautiful in its decay. The anvil behind it sprouted from a storm that prompted a tornado warning. | There was great convection that day in southeast Nebraska, and that meant a great sunset. That was before I drove through the nasty core of a storm that a smarter chaser later told me produced a funnel. Duh! |
| | |
| --- | --- |
| This bolt sprang out of a Kansas thunderstorm on May 18, 1998, as I started two weeks with the Cloud 9 Tours group after a week of solo chasing. | Weak but picturesque Nebraska storms on May 19, 1998: The baby storm (bottom of photo) that was heading south-southeast -- almost in "orbit" around the bigger storm, which was heading east -- looked a little like the Starship Enterprise. |
| | |
| --- | --- |
| This dramatic rotating storm formed on May 20, 1998, in northwestern Nebraska. | Here's the same storm around sunset; notice the curving structure, indicating its rotation. It was a real teaser but didn't produce a visible tornado. |
| | |
| --- | --- |
| When this storm billowed up and grew an overshooting top within minutes of its formation on May 24, 1998, in northern Oklahoma, it was clear it was going to be a beast. | After the storm produced several small tornadoes and gustnadoes, it spit out this dust-drenched tornado about six miles west of Medford, Oklahoma, around 7:45 p.m. central time. It came within a hundred yards when it turned and started munching after us, forcing a hasty retreat. |
These grungy pix of the
tornado pictured above ...
... came from my video camera.
I captured on video this amazing lightning bolt, which hit on both sides of the road and caused sparks to shower from transformers on three telephone poles, as we drove east away from Medford after seeing the May 24 tornadoes. Click on the thumbnail image to see not only a big version of the photo but another frame from the video and an animated GIF of the strike.
| | |
| --- | --- |
| The May 24, 1998, tornadoes included an F3 that seriously damaged several houses, blew over telephone poles, stripped away wire fencing and flattened wheat in Lamont, Oklahoma. The tornado, which may have been half a mile wide, drove this sheet metal into a tree. | The trees themselves were blasted by the Lamont tornado with such force that many were stripped of branches and leaves. Pieces of hay were driven into tree trunks as well. |
| | |
| --- | --- |
| There were a number of days that were quiet for storm-chasers early this season, but this sunset over Oklahoma City was spectacular in its subtlety. | Another week of solo chasing after the tour under a wickedly boring ridge produced only a few messy severe storms in eastern Oklahoma and northwest Arkansas, but a few days after I got back to Maryland, there was this dramatic sunset on June 7, 1998. |
| | |
| --- | --- |
| This is what East Coast chasers do when they're bored. They drive through severe storms. On June 13, 1998, the same day lightning struck at the Tibetan Freedom Concert in Washington, a severe storm knocked this tree onto some power lines in Montgomery County, Maryland. The wind in this storm was fierce and knocked down many trees and branches. | It may look like a Great Plains supercell, but this is a storm on June 20, 1998, as seen from extreme southeastern Pennsylvania, looking southeast. (In other words, the storm itself was probably in Delaware at this time.) It's rare to see a cell so isolated in this area. Wow! |
| | |
| --- | --- |
| On June 30, 1998, this storm loomed over Baltimore. It was preceded by an impressive-looking Anvil of Doom but seemed to lack any decent structure by the time it arrived. | About 8:30 a.m. on September 7, 1998, a severe storm whipped through Franklin, Pa., knocking down several trees and power lines and producing some amazing CGs. This happened to be the morning after an East Coast Chasers Picnic organized by the Great Lakes Severe Storm Chase Team/Hyundai Team Extreme (where we ate the cake pictured near the bottom of this page). And it was the same day the entire Northeast was raked by severe storms. |
| | |
| --- | --- |
| On October 23, 1998, I was in Colchester, an English town east of London, when this storm blew up. Scud movement at the base seemed to indicate at least some rotation. | The same storm made a startling reflection in a waterway in the local park. |
| | |
| --- | --- |
| On October 24, after touring London's Highgate Cemetery with friends in buckets of rain, I found myself in the Hampstead area of the city -- under a rainbow. | The next day, October 25, a storm moved through London's Regent's Park, prompting more glorious skies and a rainbow. |
| | |
| --- | --- |
| The storm that passed over Regent's Park afforded another rainbow, seen here through a gate on the edge of one of the gorgeous rose gardens. | On October 26, I went to Greenwich to see the Prime Meridian of the world (home to the Zulu time that is used in so many forecasts). There, the view from the Queen's House revealed a splash of blue sky. Hey, in England, blue sky IS a weather event! |
| | |
| --- | --- |
| Of course, the fine weather in Greenwich didn't last long. From the hill where the old Royal Observatory is perched, the approach of the storm was obvious -- as was another rainbow. | There's nothing like being caught in an English hailstorm in late October. This one produced pea-sized stones and soaked a lot of tourists. |