:: home

:: books

:: gallery

:: data

:: blog

:: kids

:: shop

:: bio

:: help

:: contact

:: ChrisKridler.com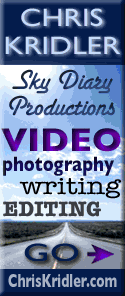 Words/images COPYRIGHT © 2021 by Chris Kridler. All rights reserved. Do not use Sky Diary photos on other Web sites. Personal use as computer wallpaper is permitted, but do not distribute photos. Write for information about purchasing video, photographs or articles. | Frequently asked questions

May 11, 2013:
Severe storm in Rockledge, Florida
May 11, 2013: This day was a "party chase" - one when I had a social obligation and was at a party in Rockledge, Florida, when the storms rolled in. This was a wicked line that approached Brevard County, on Florida's east coast, from the west. The lightning was especially intense, and a bolt struck a tree very close to me when I was outside, seeking inadequate shelter in a doorway. I quickly went in the house, though I felt lucky not to have felt the effects of the bolt, other than an adrenaline rush. The storm became severe-warned and caused a lot of minor wind damage. Share
I shot a little video of the severe storm as it rolled into Rockledge, with lightning and intense wind.
Click on the thumbnails to see a larger image. From the gallery pages, click "up" to return to this index.



I was at a party in Rockledge, Florida, when the storm approached on May 11, 2013.

I panned quickly to show the stucture.

Radar indicated a strong line approaching.

Here it's a little closer ...

... and it was deceptively pretty. But the lightning was intensifying.

I retreated to an alcove by the front door to observe.

The storm blasted through, and lightning struck a tree just beyond the garage to the left.

Afterward, I saw the wounded tree - the one on the right.

Here's a closeup of where lightning damaged the palm tree.

The middle tree shows its wound.

For perspective, here are the trees (at right), including the one that was struck, next to the house where I was standing.

Once we got back to our Rockledge neighborhood, we saw lots of branches down, some six inches in diameter. Our neighbors reported that their plastic lawn furniture flew over a fence into another yard. This is a little minor carnage on our street.
---
2013 reports and photos | blog | main gallery page
All photos copyright 2013 by Chris Kridler, ChrisKridler.com, SkyDiary.com