:: home

:: books

:: gallery

:: data

:: blog

:: kids

:: shop

:: bio

:: help

:: contact

:: ChrisKridler.com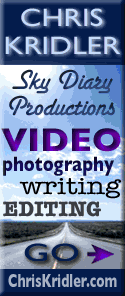 Words/images COPYRIGHT © 2020 by Chris Kridler. All rights reserved. Do not use Sky Diary photos on other Web sites. Personal use as computer wallpaper is permitted, but do not distribute photos. Write for information about purchasing video, photographs or articles. | Frequently asked questions

April 29, 2013
Florida lightning storms
April 29, 2013: A severe storm approached northern Brevard County, Florida, just as it was getting dark April 29, so I headed out to try my luck shooting lightning. I got one shot over Port Canaveral with a cruise ship in the foreground that made my night. Share
Click on the thumbnails to see a larger image. From the gallery pages, click "up" to return to this index.



A severe storm headed for northern Brevard County brought me first to Cocoa, Florida, to try to get some lightning. My exposure wasn't quite right here, so this is a heavily processed shot.

I headed for Port Canaveral in hopes of getting nice shots over the water.

This cruise ship made for a pretty foreground in this cropped shot.

This is a vertical crop from a horizontal - I liked the way it appeared the bolts were hitting the ship (but were not).

A few crawlers lit up the sky as the rain got heavier.

This was definitely the shot of the night! A beautiful crawler lights up the sky over Port Canaveral.
---
2013 reports and photos | blog | main gallery page
All photos copyright 2013 by Chris Kridler, ChrisKridler.com, SkyDiary.com