:: home

:: books

:: gallery

:: data

:: blog

:: kids

:: shop

:: bio

:: help

:: contact

:: ChrisKridler.com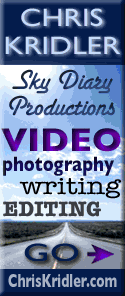 Words/images COPYRIGHT © 2020 by Chris Kridler. All rights reserved. Do not use Sky Diary photos on other Web sites. Personal use as computer wallpaper is permitted, but do not distribute photos. Write for information about purchasing video, photographs or articles. | Frequently asked questions

gallery: May 25, 2012
May 25, 2012: Today I started the day with Dave Lewison, Scott McPartland, Dayna Vettese, Brad Rousseau, and Simon Eng, but by chase's end, we were scattered to the winds. We stopped in Great Bend, Kansas, targeting the triple point to the west where warm front and dryline met. We then drifted to Rush Center, where we met lots of chasers, and one tower went up in a hurry. This is the first storm we chased, along with a zillion other chasers, who drove like crazy people through a grid of dirt roads like a pack of rats let loose in a maze.That storm didn't produce the cheese, but at dark, storms in the line went crazy. Some chasers reported seeing as many as five tornadoes, some at or after dark; makes me feel like a slacker for just finding one. Share
Click on the thumbnails to see a larger image. From the gallery pages, click "up" to return to this index.



May 25, 2012, had us targeting west-central Kansas, along with half the storm chaser community. We watched the data in Great Bend, then met more chasers in Rush Center.


One of the chasers awaiting storm initiation was David Hoadley, a well-known and respected storm chaser.


Simon Eng and Robert Balogh consider our prospects.

Jeff Piotrowski checks out Scott McPartland's hail shields.


Clouds build west of Rush Center, Kansas.


The storm rapidly developed a wall-cloud feature.


With the tornado potential today, this seemed like a sign one might be next.


Inflow - warm air that fuels the storm - helped its structure evolve.


A wider shot shows the nice structure.


The base was ominous, and gustnadoes spun up in the dust the storm kicked up. Our group got separated in the crazy chase along a grid of dirt roads, which chasers zooming everywhere like rats in a maze.


The storm advances over a wheat field.


The storm showed signs of rotation as it approached Russell, Kansas, and even produced a brief needle funnel.


Suggestive features appeared, but this storm just wasn't thriving.


I had to choose from this storm south of Russell and storms developing to the south. Photo by Chris Kridler, SkyDiary.com, ChrisKridler.com


Rising scud on the first storm of the day.


I started looking at the storm just to the southwest, which was a prolific lightning producer.


Bang, bang!


A storm to the south looked really nice, but at first, I didn't take it seriously. It didn't look like much on radar. (Meanwhile, the southernmost storm was producing tornadoes.)


The storm in Russell County produced a tornado I didn't see, and I got on it in time to see a wall cloud.


A tornado formed out of the meso and was beautifully backlit by the sun.


It began a lengthy rope-out stage.


The tornado stretched ...


... and stretched.


Mammatus filled the sky around the storm.


As it grew dark, I photographed the storm as it moved northeast, but left it before its next nighttime tornado warning. Photo by Chris Kridler, SkyDiary.com, ChrisKridler.com


Another look at the storm after dark.

---
2012 reports and photos | blog
All photos Copyright 2012 by Chris Kridler, ChrisKridler.com, SkyDiary.com
go to the main gallery page
go to reports from 2012, 2011, 2010, 2009, 2008, 2007, 2006, 2005, 2004, 2003, 2002, 2001, 2000, 1999, 1998, 1997