:: home

:: books

:: gallery

:: data

:: blog

:: kids

:: shop

:: bio

:: help

:: contact

:: ChrisKridler.com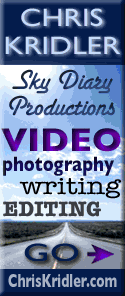 Words/images COPYRIGHT © 2020 by Chris Kridler. All rights reserved. Do not use Sky Diary photos on other Web sites. Personal use as computer wallpaper is permitted, but do not distribute photos. Write for information about purchasing video, photographs or articles. | Frequently asked questions

gallery: May 24, 2012
May 24, 2012: Today I chased with Dave Lewison, Scott McPartland, Dayna Vettese, Brad Rousseau, and Simon Eng. We headed toward eastern Kansas, forgoing the long drive to chase fast-moving storms in the trees in Wisconsin. We were rewarded with a late-day storm that was beautifully sculpted and produced tremendous lightning, though it was never severe-warned. Share
Click on the thumbnails to see a larger image. From the gallery pages, click "up" to return to this index.



On May 24, 2012, our group headed from Salina toward eastern Kansas, checking out cumulus clouds along the way.


We waited for a long time in Garnett, Kansas. The view to the east wasn't promising ...


And beyond the cows, there were still clouds to the northwest.


At long last, towers started to form.


The budding storms, as seen by the U.S. 75-I-35 intersection, formed a line, and it appeared one was becoming dominant.


Here's the meat of it.


It even looked as if it were trying to form a wall cloud for a bit.


The vertical view.


The storm's appearance became more linear, yet it still appeared to have a decent updraft.


Dave Lewison, Brad Rousseau and Scott McPartland check out the storm.


We headed east-northeast to keep up with the storm. I snapped this in transit.


In Williamsburg, Kansas: Beautiful storm, golden wheat, nirvana!


Same spot, but a view of the tail end.


Eventually the storms outflowish tendencies took over, but it had a wonderful barrel shape at the leading edge. This was shot east of the tiny town of Princeton, Kansas.


The shelf, such as it was, became a detached outflow boundary.


You can see it separating from the storm, but it was still UFO-like. This is looking south.


This is looking north.


There it goes ...


Creeping over the road.


Here's what's left of the storm, still with vigorous lightning and precipitation.


The storm had active lightning. I'm still east of Princeton here.


This bolt was in the rain, but the ones slightly ahead of the storm were spectacular.


The lightning intensified. This bolt was so close the flash and bang were almost simultaneous.


Fantastic lightning!