:: home

:: books

:: gallery

:: data

:: blog

:: kids

:: shop

:: bio

:: help

:: contact

:: ChrisKridler.com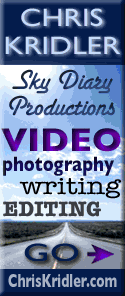 Words/images COPYRIGHT © 2021 by Chris Kridler. All rights reserved. Do not use Sky Diary photos on other Web sites. Personal use as computer wallpaper is permitted, but do not distribute photos. Write for information about purchasing video, photographs or articles. | Frequently asked questions

gallery: May 17, 2012
May 17, 2012: I went after a severe storm that was heading southeast out of Titusville, Florida, the evening of May 17. It produced a beautiful shelf cloud and a lot of turbulent motion. Share
Click on the thumbnails to see a larger image. From the gallery pages, click "up" to return to this index.



A shot out the front window of my car shows the severe storm descending out of Titusville on May 17, 2012.


I caught up wtih the storm in Port St. John and watched it progress.


It had a linear appearance but at times had areas that suggested rotation.


The shelf cloud took shape.


Hail was reported with the storm.


Another look at the developing shelf cloud and precipitation core.


A bit down the road in Cocoa, I stopped again to film the turbulent motion.


Nice layers!


I got stuck at the Route 528 light for about three cycles (argh!), so I snapped this looking east-northeast out my driver's side window.


Also while I was stuck at the light, a beautiful rainbow appeared, so I snapped it before the light changed (the traffic light, and the sunlight angle).


I stuck my camera out the window and shot back toward the northwest as I headed east.


My first stop in Cape Canaveral yielded this shot as the storm moved southeast.


I hopped slightly south to get a better view. This feature strongly resembled a wall cloud, but rotation appears lacking in my video. Lots of motion, though!


Amazing structure!


It's leaning forward...


I headed south and saw this ahead of me.


A quick snapshot out the driver's side, toward the east, yielded beams of light.


I stopped at a beach parking lot at Patrick Air Force Base and looked north.


The divine shelf cloud eased out over the Atlantic Ocean.


And it evolved...


... as lightning lit up the rain/hail core.


I love the turbulent sky after a shelf cloud passes over.


The rain/hail is lit again by lightning over the ocean.


A bit of distant lightning.


Weird color over the ocean, enhanced by exposure and artificial lights.


I made a short-lived attempt to get lightning over the St. Johns River, but rain overtook me.

---
2012 reports and photos | blog
All photos Copyright 2012 by Chris Kridler, ChrisKridler.com, SkyDiary.com
go to the main gallery page
go to reports from 2012, 2011, 2010, 2009, 2008, 2007, 2006, 2005, 2004, 2003, 2002, 2001, 2000, 1999, 1998, 1997